Version 1.4.19 Released, Updated Template Assistant and Postcode Lookup Add Ons
14th June 2018
---
Today sees the release of Property Hive version 1.4.19, as well as updates to a couple of add ons. In this post we'll look at the new features released.
Property Hive
New 'Marketing Status' Property Filter
As the number of properties within WordPress grows, managing them can get difficult. To make finding and filtering properties easier in the backend of Property Hive we've added a useful new dropdown we've called 'Marketing Status':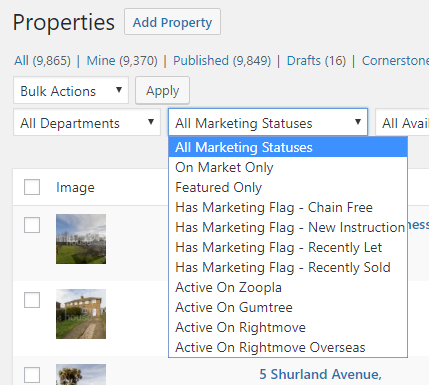 By using this you can filter by on market properties only, featured properties only and properties with a particular marketing flag selected. If you use either our Real-Time Data Feed add on on BLM Export add on to send properties to the portals, you can also filter by properties active on these third party sites.
Selected Marketing Flags Now Shown In Admin Property List
Staying on the backend of WordPress, we now display which marketing flags a property has selected on the main property list so you can see what's been applied without needing to click into the record.

Corrected The 'Order By' options When Searching For Commercial Properties
When a user was searching for properties on the frontend, when searching for commercial properties the 'Order By' options available would be applicable to residential properties. We've now updated it so, if someone does search for commercial properties, the sorting options will be floor area descending, floor area ascending, and date added.
New Attributes Supported In the [properties] Shortcode
When using the [properties] shortcode you can now pass in three new attributes:
negotiator_id – The ID of the user you wish to show users for.
commercial_for_sale – Pass any value (1, true, yes etc) to filter commercial properties by only those which are for sale
commercial_for_rent – As above but for rent
Template Assistant Add On
One of the more popular features of our Template Assistant add on is the ability to add custom fields. Previously you could only add custom fields to properties. With this update however you can now also add custom fields to contacts.
When adding a custom field simply choose one of the contact related meta boxes: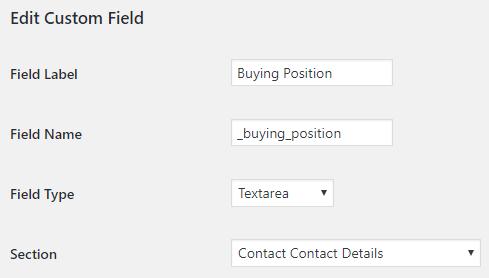 Once added this field will then become available on the contact's record for completing.
We feel using custom fields is a great way to record additional information about properties and contacts, and gives you control over which fields you see, as opposed to us clogging up the system with fields only a small majority of people are ever going to use.
Postcode Lookup Add On
As above, we're extending the functionality already present on properties onto contacts. If using the Postcode Lookup add on to increase speed and accuracy when entering property addresses, you can now benefit from the same functionality when adding contacts too.