Multiple New Version Releases for Property Hive and Add Ons
21st June 2017
---
Normally we do an individual announcement when an update to Property Hive or one of the add ons is released. We've just had too many releases going live recently though to do this, so have grouped them all into one post. In this post we'll look at what updates have been made and which add ons have been effected.
Core Property Hive Plugin
Since announcing version 1.4.2 a few weeks ago we've moved on two versions already which includes the following:
All In One SEO Plugin Support
We've added support for the All In One SEO plugin. Previously when using the plugin to add a title or description on an individual property it wouldn't save the information entered.
New 'Email Queue' Settings Area
When sending applicant matches, especially when auto-matching is enabled, it's possible that there could hundreds or thousands of emails going out at any one time. As a result we queue the emails so we can send them out in batches, but also verify that they've gone and can then feed this back to you.
If you have the contacts module enabled, within 'Property Hive > Settings > Email' there is now a new section called 'Email Queue'. This allows you to see what has been sent, what is pending, and which emails have failed to send.
Tweaked 'Property Type' Dropdown in Search Forms
If you have a search form on your site which allows someone to search by 'Property Type', and you've customised it at all within your theme's functions.php, our advice is to just give it a quick check after updating and make sure it still reads ok. Chances are it will be fine but we've done a small tweak to improve how this dropdown is built so that we can further customise it in the future.
Template Assistant Add On
Choose Field Type for Custom Fields
Using our Template Assistant Add On you could already add custom fields to a property record. However you could only add text fields. With this latest release you can choose between 'text', 'textarea' or 'dropdown' when adding the field and if 'dropdown', can specify the options which should be available.
Add Custom Fields To Search Forms
As well as the above, you can now add any custom fields to the search forms. Let's say for example you add a new custom field of 'Location Type' with the options 'Rural' and 'Urban', you could now also offer this as a search criteria for your users, all though the drag-and-drop form builder.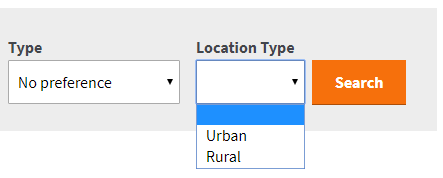 View Template Assistant Add On
Property Import Add On
New Import Frequency of 'Every 15 Minutes'
Previously you could choose to import properties hourly, twice daily, or daily. We've now added a new frequency of 'Every 15 Minutes' so you can get properties into WordPress and onto your estate agency website even quicker.
Tweaks to Dates and Times Output On Screen
We had a few reports that in some places where dates and times are shown that they're sometimes wrong. They were absolutely right so we did some investigation and have made some amendments so it now takes into account the time on the server and also the timezone set in WordPress under 'Settings > General'.
Support for Commercial Properties Added To Vebra
If you're importing properties from Vebra and are sending commercial properties, we're pleased to tell you that they'll now be fully imported.
Map Search Add On
20-30% Speed Improvements
When a site has only a few properties the results shown on the map are instant. Once you start trying to load hundreds of properties on the same map though, you started to get a slight delay. We've performed some optimisations so map loading times are now 20-30% quicker.
New 'Loading' Overlay
In conjunction with the above, we've also added a new 'Loading' overlay which will show as properties are being fetched. This just indicates to the user that something is happening, especially useful for sites that load hundreds or thousands of properties onto a map where it can take a few seconds.
The above is just a small insight into the new features included in the latest released. There's also been a lot of bug fixes and other tiny improvements.
All of the above features are available to download now for use on your WordPress Property website. Note that receiving the updates to the add ons will require a license key. We hope you enjoy the updates and as always welcome any feedback.