Property Import
Works With All Of The Leading UK Property Software Providers And More

Using this add on you can automatically import properties from all of the major property software third parties using their dedicated APIs and datafeeds. From Vebra Alto to Expert Agent, from ReapIT to DezRez, and more, we've made it easy to import properties from as many sources as possible. We currently support 31 different formats and are adding new ones regularly.
We also support importing data in the BLM and CSV formats; Formats that will highly likely be possible to obtain should you not be using one of the software companies listed.
If you want to import properties from a software provider that we don't support yet, please get in touch as we're always willing to expand the list of supported formats.
New Imports Setup In Seconds
When setting up an import you'll be taken through a step-by-step wizard allowing you to choose the format being used, as well as specify a whole host of other options.
Once setup, sit back and watch your properties import into Property Hive automatically.
Detailed Log Output
Once an import has successfully completed, you'll have access to detailed logs containing a list of what went on during the import, including any warnings and errors that occurred along the way.
Logs are kept for 7 days and are automatically cleaned up so you can go back at any time to see exactly what went on during each import.
You can also enable a setting to get these logs emailed to you each time an import completes so you can rest easy knowing that they're running.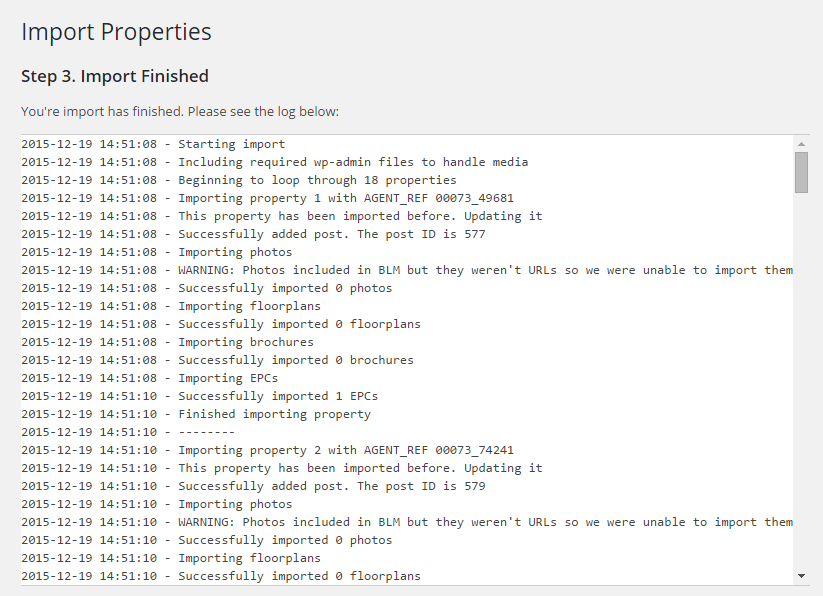 Advanced Settings
During the setup of a new import you'll have access to a whole host of additional options, including the ability to specify how often imports run, whether an email log should be sent after each import completes, and what to do with media when a property comes off the market to save your disk from getting full.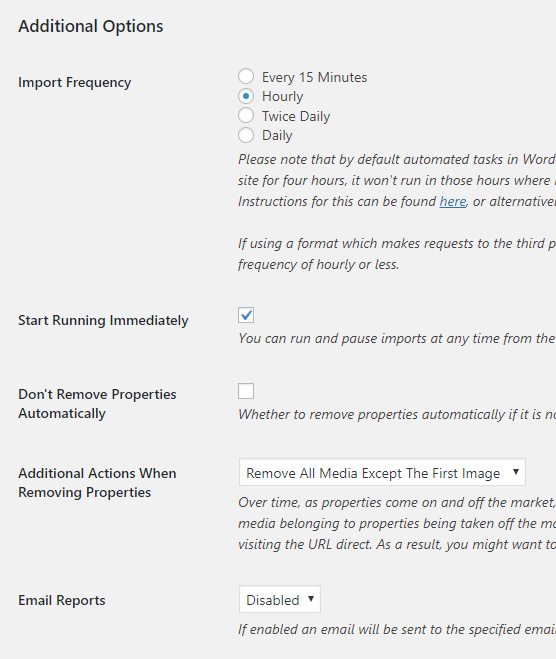 This add on currently supports the following formats:
BLM's provided via FTP (including zipped BLM's with associated media)
BLM's available at a remote URL (media must be provided as URLs)
Rightmove Real-Time Datafeed (RTDF)
ExpertAgent XML
Vebra Alto API XML (version 12)
Dezrez One XML
Dezrez Rezi JSON API
Citylets XML
MRI Software RAW Data File (Thesaurus)
MRI Software (Aspasia/Qube XML)
Jupix XML
AgentOS
Decorus
Reapit / JET SOAP API XML (discontinued)
Reapit Foundations (incurs additional monthly fees based on API usage)
Agency Pilot
agentsinsight* / Agents Society
Realla
Gnomen XML
Rentman XML
REAXML (including zipped XML's with associated media)
10ninety XML
Acquaint
SME Professional XML
Kyero XML
ReSales Online XML
WebEDGE / Propertynews.com
Estates IT / PCHomes XML
VECO JSON
Loop API
Juvo XML
Utili API
Arthur Online API
Domus
BooksterHQ
Street
Muven XML
VaultEA API
Manual BLM upload
Manual CSV upload
If you need to import your properties in a different format, please get in touch, providing an example of the file, and we'll see if we can get it added as a supported format.
Depending on the number of properties being imported an import can take a while. If you encounter server errors or the import seeming to stop mid-import, we recommend you increase the PHP server setting max_execution_time to overcome this.
Imports are fired by WordPress as a scheduled event / cron job. As a result, please ensure that your WordPress site executes cron jobs. If not you can try alternative cron or a cron job on the server. Your hosting company should be able to assist with this.
Please ensure you're not using an image optimisation plugin such as Insamnity which might modify the original image. We sometimes compare filesizes to check if an image has been updated or not so need the original as it was when it was first imported to prevent the image being imported again and again.
If using the BLM format and a ZIP file is provided, you'll need the PHP ZipArchive class enabled in order to extract the ZIP's. This class is enabled by default on most servers.
When performing a manual, one-off BLM or CSV import, any media (images, floorplans etc) must currently be provided as full URLs. If choosing to automatically import BLM files, media can be URL's or sent as physical files.
If you encounter issues importing the feeds or media when they've been provided as URL's, it's likely due to the settings on your server. Please ensure either allow_url_fopen or cURL are enabled on the server.
If using the Vebra or Dezrez Rezi format, you'll need cURL enabled.
If using the Reapit / JET format format the SOAP API is no longer supported. Instead we've added support for their Foundations API. Reapit charge per API request so this incurs additional monthly fees by direct debit. See the docs for more.