Property Import Add On 1.0.80 Released
19th January 2018
---
Our most popular add on, the Property Import add on, has just had it's latest version released. In this post we take a look at the new features and fixes.
The Property Import add on allows estate agents to import their properties from popular third party software, such as Jupix, Dezrez, Vebra, ExpertAgent and many more. As the add on becomes more stable and the releases become smaller and less common, we don't tend to post about every single release as they're not really worth shouting about.
This latest version, 1.0.80, contains a few more improvements than normal so we wanted to tell you about them and outline any new functionality.
Process Properties in Chunks
Some imports contain just 10 properties, some contain hundreds. For these larger imports we found they can be quite resource intensive. As such, we've added the ability to process a few properties at a time with a pause in between. This should reduce server load and prevent the site slowing down whilst imports run.

As well as reducing server load, we found that the most common issue we see with imports is them timing out as they hit the timeout limit set by PHP and/or by the server. In the future we will be looking at forking processes to try and get around these time limits which this new 'chunk' setting will assist with.
Note that adding a pause can cause the imports to take longer and thus might result in your hitting the timeout limit set on the server. Bear this in mind if you choose to utilise this feature.
Seconds added to log output
The logs are a great way to see exactly what went on during an import; how many properties were imported, were there any errors, and how long the import took. Against each log entry we would show the time in hours and minutes, however sometimes you need to see how long something took to happen in seconds.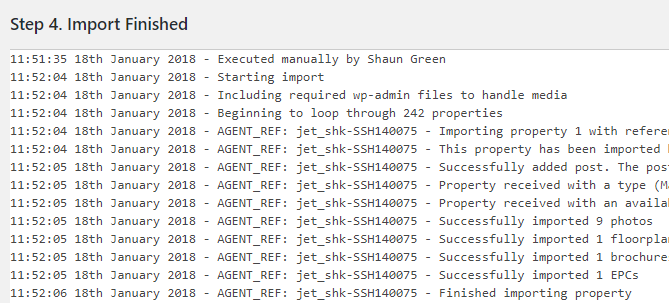 In this release we've added seconds to the output so you can see exactly how long something took.
CSV Format Gains Support for Custom Fields and portals
When importing CSV files containing properties you'll now be able to map columns to any custom fields you have setup using the free Template Assistant add on.
If you have the RTDF add on or BLM add on active to handle the feeds to property portals like Rightmove and Zoopla, you can also now map a column to automatically activate properties on these portals, instead of having to manually activate them afterwards as you would have to before.
Cater for Invalid or empty XML when importing from Jupix
We saw a few scenarios where sporadically the XML from Jupix would be empty or invalid. This would in turn remove all the properties from the site, setting them to off market, until the next import ran.
To get around this we now check the validity of the XML before continuing to process it.
Other Improvements
– Declared support for WordPress 4.9.2
– Save virtual tours in CSV format. Previously you could select the field but they weren't actually saved
– Do addslashes() when storing media URLs from ExpertAgent format. For some reason some media URLs contain backslashes which would be removed by WP. This would result in media being imported everytime the import ran.
– Corrected use of incorrect hook name in CSV import
You can view the full changelog at the bottom of the add on page.
If you have a license key you can update to the latest version of the Property Import add on right away through your WordPress dashboard on your estate agency website. Otherwise, the add on can be purchased from the link below.