Property Hive 1.5.4 Released
13th April 2021
---
This weeks release of our core Property Hive plugin, version 1.5.4, is now available and contains the following:
New 'Per Day' Rent Frequency For Lettings Properties
When selecting the rent frequency for a residential lettings property we've added a new option of 'Per Day':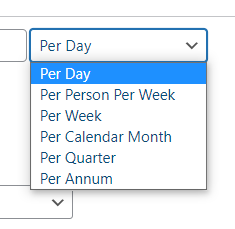 We've also updated our Property Import and Real-Time Portal Feed add ons to support this accordingly where possible (we say 'where possible' because not every third party CRM or portal supports this 'Per Day' frequency).
Assisting New Property Hive Users
In conjunction with this release we've also made our new free Demo Data add on available that allows you to quickly generate demo data.
New users of Property Hive will get a prompt making them aware of this functionality in an attempt to make it easier for developers and estate agents just starting out with our plugin.

You can read more about our new Demo Data add on here.
Note: This will only effect new installations of Property Hive.
And More…
Correct YouTube links used in any Elementor widgets that reference embedded virtual tours by converting https://www.youtube.com/watch?v=xxxxxxxx to https://www.youtube.com/embed/xxxxxxxx
Ensure AJAX grids load on property record (i.e. Viewings grid) when block editor used for whatever reason (i.e. when using Houzez and our Houzez Data Bridge add on)
Added filter 'propertyhive_default_applicant_send_matching_properties' to specify default 'send matching properties' checkbox status when an applicant is created
For the eagle-eyed amongst you, you might've noticed we didn't officially announce 1.5.3 last week. There wasn't anything major in this release but for your reference here's what was included:
Changed default rent frequency to be PA when adding commercial properties
Added oEmbed option in Elementor embedded virtual tours widget
Default my account tab if hash is present in URL (i.e. #my-account-saved_searches)
Swapped order of address meta fields queried during keyword search to resolve issue when keyword and radius is set
Corrected issue with setting property by default on new viewing if address has an apostrophe
Include new note type of 'status_change' in notes grids to support old way of recording maintenance job status changes
Improved sanitization of locations when selecting them on a property record to prevent issue with new terms being created
Don't forget to sign up to our mailing list below to receive all the latest updates such as this to your inbox.