Introducing Our New Free Property Management & Tenancies Module
16th March 2021
---
It's here! We've been raving about the upcoming release of our new property management module for some time now and we finally released the BETA version of this back in late January to gain some valuable feedback from users who were testing this out.
We've now officially launched this as part of version 1.5.0 of Property Hive and we're so excited to share the details with you all.
Our new property management module allows you to manage lettings properties and tenancies from within WordPress when using Property Hive as your estate agency CRM software. It's been added as part of our core plugin which means it's completely free to use and open-source for all to contribute to.
Let's take a look at some of the key features included in this new feature:
Record Tenancies
On a property record you can now record previous, current and future tenancies: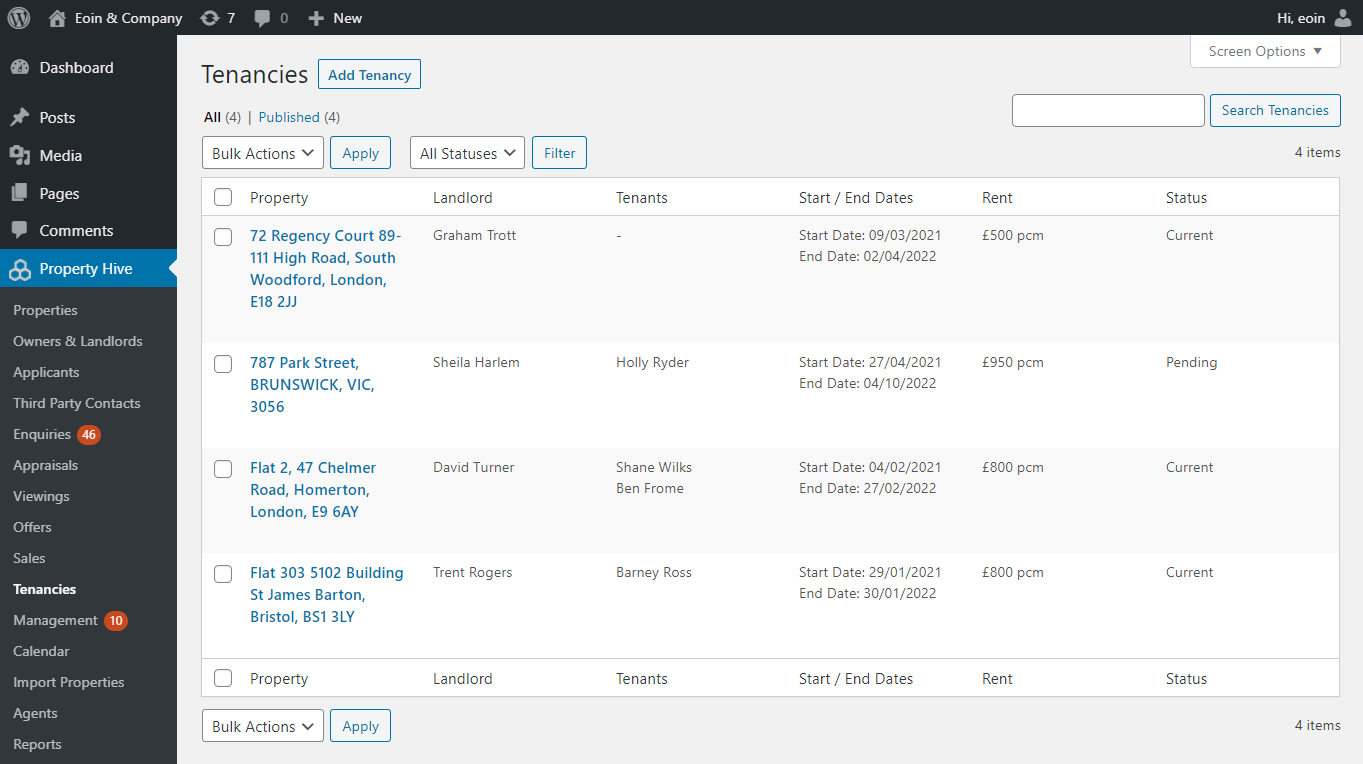 Against each tenancy you can store all of the key information associated with it. This includes:
Tenancy Details
Store key tenancy-related information such as details of the lease, dates, rent and more. Need extra fields? Using our free Template Assistant add on you can add as many additional fields as you require to make tenancies work for you.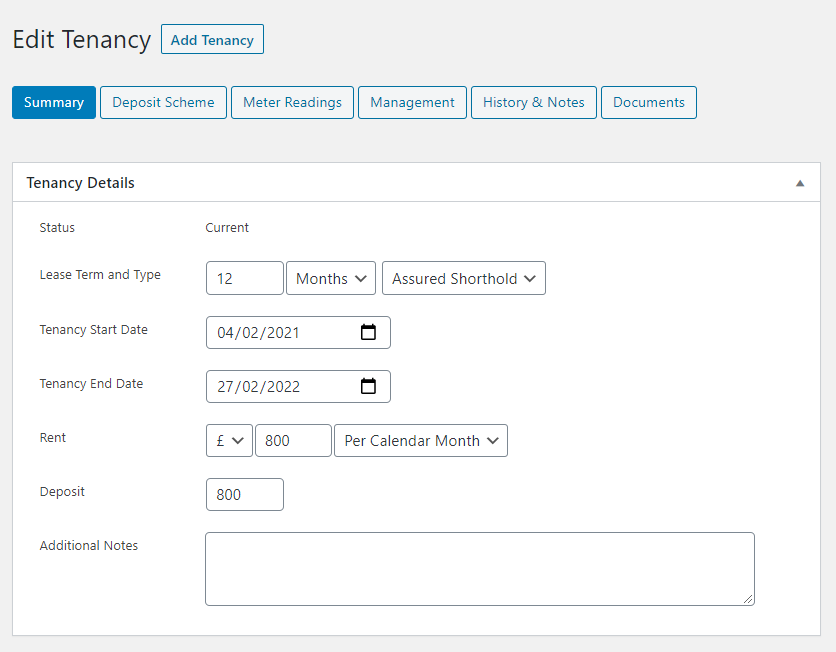 Tenants
Record one or more tenants and their details with the ability to add more, or click through to the contact's full record.
Deposit Information
Record details of the deposit scheme.
Meter Readings
Store gas, water and electricity meter readings and the date they were taken.
Key Management Dates
Against each tenancy you can record key management dates. More about these below.
Management Dates
On a property or tenancy you can record key dates such as gas safety certificate expiry dates, move in appointments, inspections and much more.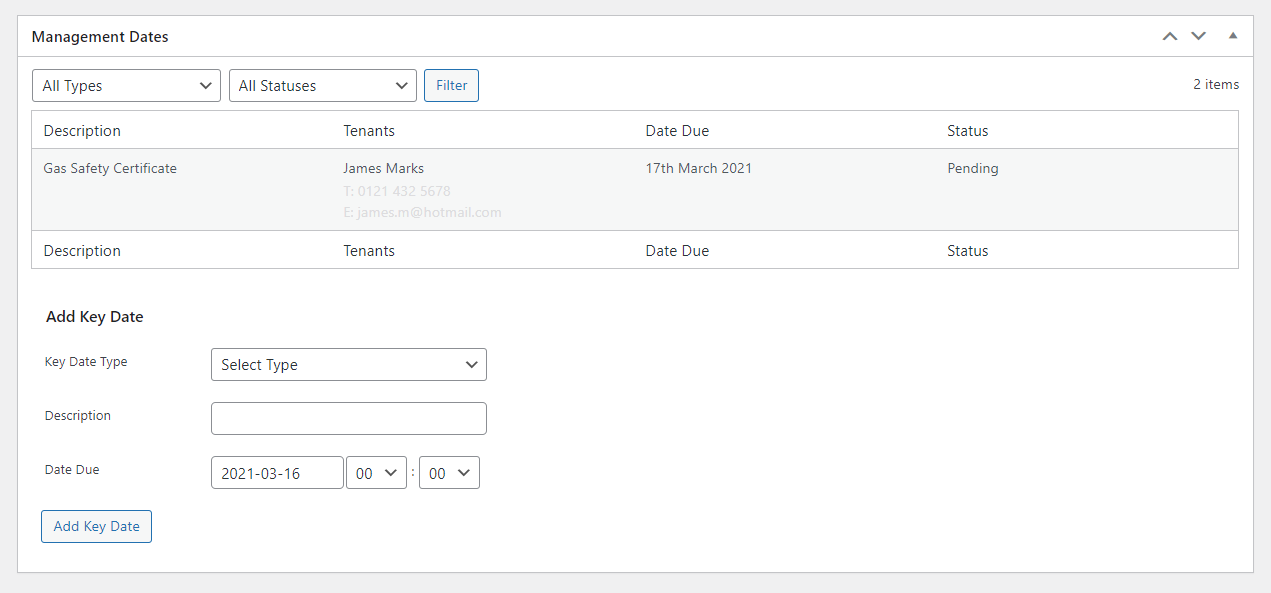 These dates are completely customisable from within the Property Hive settings area, and you can even specify how often these dates repeat when applicable so when a date is completed we'll default the next key date accordingly. This makes booking regular key dates, such as inspections that might happen every 3 months, quick and easy to add.
Making it easy to see what key dates are upcoming
You don't want to have to go into each individual tenancy to see what needs your attention. That's why we've created two areas where you can see, at a glance, what's upcoming. The first is a new widget on your WordPress dashboard: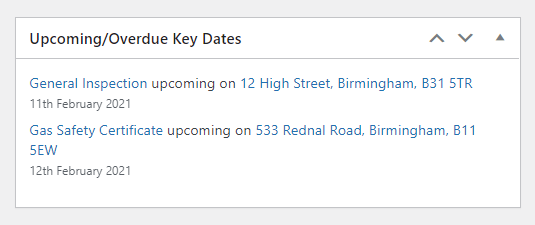 The second is a new menu item found under 'Property Hive > Management'. The menu item itself will indicate how many items are upcoming or overdue: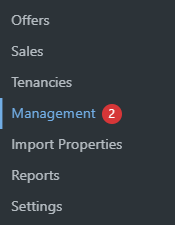 Once you click into this new 'Management' list you'll be able to see a full list of all key dates to action or filter accordingly.
Generating Tenancy Documents
To coincide with this release we've also updated our Documents Add On to support a whole host of tenancy related tags allowing you to generate tenancy based documents by dynamically merging information such as date, tenant names and more.
We're really excited about this new release and the fact it further expands our offering to estate agents looking for an alternative to subscription-based property CRMs. Our ethos from day one has always been to be a community-based, open-source solution that redefines how the property CRM market works, and we believe this release takes us one step closer to achieving this.
Think this is exciting? Wait until next week when we've got another killer feature being announced. Don't forget to sign up to our mailing list below to be kept up-to-date.