4 Reasons To Use Property Hive For Your Overseas Real Estate Website
7th June 2021
---
Did you know Property Hive can be used to manage and market overseas properties? Although primarily UK based, one of the things we wanted to ensure when building our WordPress plugin was that the countries and currencies displayed throughout were customisable for international users so everyone can benefit from our functionality.
Below we've listed four reasons to use Property Hive for your overseas WordPress real estate website:
List properties in multiple countries
Within the Property Hive settings area you can select which country, or countries, you operate in.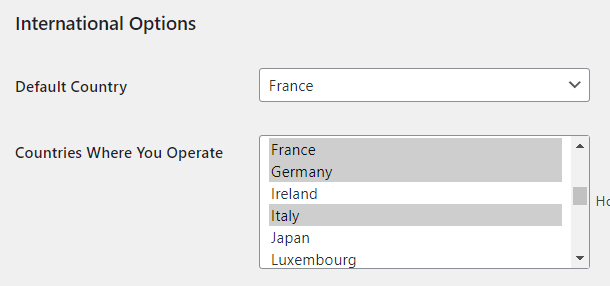 When you come to edit a property you'll then have the ability to select which of the selected countries the property resides in:

Support for multiple currencies with daily exchange rate updates
Depending on the countries selected you'll be able to choose the relevant currency for each property:

We'll default this to the currency of the property's country.
Should you have properties entered in multiple currencies we'll take care of that too. When ordering or filtering by price we'll ensure this is handled accordingly by updating exchange rates behind the scenes automatically each day and storing a 'base price' that we then use in searches and when sorting properties. This means, regardless of which currencies are used they'll always come back at the right time and in the correct order.
Currency conversion functionality for your users
Simply pass a currency in the URL of any page on your website and all prices throughout the site will be displayed in this currency. For example:
https://your-site.com/?currency=EUR
As mentioned above, we update our exchanges rates daily so the converted price shown will always be up-to-date. We'll also be adding a built-in currency conversion tool in the coming months.
Automatic feeds available to overseas property portals
We have a wide range of add ons available to support sending your property stock automatically to overseas property portals. Some of these include Rightmove, Zoopla, Kyero, A Place In The Sun, The Move Channel and more.
If you're interested in using our WordPress plugin for your overseas estate agency website you can download Property Hive for free now.