Version 1.4.44 of Property Hive has just been released and contains some massive changes in relation to how applicants are matched with properties. If you're interested in intelligent property matching, continue reading to find out what's new.
The ability to match applicants with suitable properties was added back in 2016. It's received a couple of tweaks but has on the whole remained as it was when it launched.
Since this time we've received feedback from estate agents that are using this feature which, like all requests, is stored on our Feature Roadmap. We've collated all of this feedback relating to matching and have put all the changes into this one release.
The changes made are explained in more detail below:
Introducing 'Match Price Range' on Applicant Requirements
Previously you could record a 'Maximum Price' on an applicants' profile. This is great, but feedback was received that some agents wanted to also record a 'Minimum Price'. The reason being that if someone had a maximum price of £500,000 they were sometimes receiving properties way below this at £200,000 which probably weren't suitable based on the available budget.
Agreeing with this we wanted to do something about it, but throwing in a new 'Minimum Price' field just didn't feel right. We thought on it for a few weeks and decided to introduce a 'Match Price Range' instead. Not only does does this allow a minimum price to be set, but also means properties just slightly over the maximum price specified are included.
The reason being is that, although most people specify their maximum price, the truth is that should the perfect property come along, most people would go just that little bit higher. I know I've certainly done that when buying houses previously.
Here's how it looks within WordPress on an applicants record: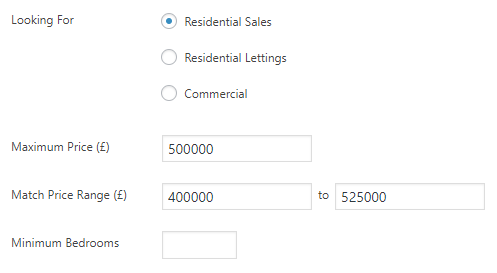 You'll see we have the original 'Maximum Price' field, but also have two new fields making up the 'Match Price Range'. This will default from 20% below the maximum price to 5% above but can be overwritten on a per-applicant basis. These percentages are also configurable from within the settings area under 'Property Hive > Settings > General > Miscellaneous'. You can also completely disable this feature here too.
Whether you enter the applicant manually via the backend of WordPress, or they register via your site, this match price range will be set automatically and properties matched to them in the future will take this range into account.
Re-Send Properties With Price Changes Or That Have Been Put Back On The Market
When a property was sent to an applicant, previously it wouldn't get sent ever again in automatic matches, and the box would be unticked by default if performing a manual match. Even if the price was changed or it was re-marketed, it still wouldn't get resent.
We've now changed this by:
1) Tracking every time a price changes or the property 'On Market' status changes. Regardless of whether this is done manually in WordPress or via our Property Import add on it will get tracked and an entry added to the property history: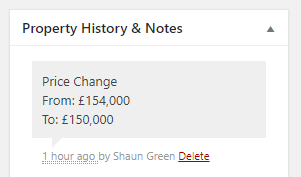 2) If a price change has occurred or a property is re-marketed since the last time it was sent to an applicant, it will now get re-sent. If being done manually we'll notify you of this:

Choose Which Property Statuses Get Included In Matches
By default all on market properties will be included in matches, regardless of their availability. Within the WordPress settings area of Property Hive you can now choose the statuses of properties that should be included in mailouts.
This is great if you don't want to include properties that are Sold STC, Let Agreed or similar. To access this new setting you can navigate to 'Property Hive > Settings > Emails' within WordPress.

We hope that if you already use applicant matching within Property Hive for your estate agency that these features are a welcome addition. If you don't use Property hive for your matching, with this update we hope that you'll now consider it and can see how powerful this feature has now become.
Version 1.4.44 is available to download now and, as always, we welcome your feedback.