Template Assistant Update: Custom Match Fields, Sortable Additional Fields And More
15th May 2020
---
Our free Template Assistant add on has received an update around creating additional fields providing more flexibility, especially when using Property Hive as your primary estate agency software CRM.
In this post we'll look at the new features you can expect to find in version 1.0.33 of the add on available to download now.
Additional Fields That You Can Match On
Additional fields allow you to add custom fields to Property Hive records to store additional information that you can't otherwise record using the default fields available.
You've been able to add additional fields for a long time, however we've now added the ability to add additional fields that can be used when matching properties to applicants.

When adding a new custom field related to properties you'll see a new option allowing you to specify whether the field should also be part of an applicant's requirements, and therefore taken into account when matching properties to the applicant.
This new field will then not only show on the property record:

…. but also in the applicant's requirements:

Sortable Additional Fields
Previously any custom fields would show on a Property Hive record in the order that they were added. Now you can drag and drop the rows within the 'Additional Fields' settings area to reorder them accordingly.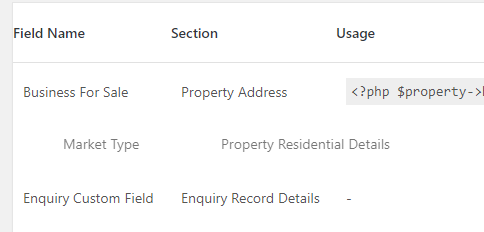 Additional Fields To Appear In User Registration Forms
When adding contact related additional fields you'll have a new option to choose whether this field should also appear on the registration form should you allow applicants to register on the frontend of your website.

This new version of the Template Assistant is available to update to now. If you already have the add on installed you can update through WordPress. Alternatively visit the link below to download the latest version.