How we're Supporting the National Trading Standard Material Information Updates
7th July 2022
---
As the chosen platform behind your estate agency website and property marketing, ensuring that you're always compliant with the latest regulations is important to us. With new regulations being bought in from time to time, we'll always work in the interests of our agents to ensure that you're kept compliant throughout.
These latest changes from the National Trading Standards is an example of this which we'll be covering in this blog post.
What are the changes?
In an effort to increase clarity for users looking to buy or rent properties, from 31 May 2022, all estate agent websites and property portals needed to start including extra 'material information' on their UK residential property listings.
This 'material information' is any information that the average consumer might need to make an informed transactional decision. This includes information such as tenure, council tax band, leasehold details and more.
Changes to Property Hive to support this
Various parts of the Property Hive platform and associated add ons have been updated to support these new regulatory updates. Let's take a look at what's changed below:
Core Property Hive plugin
When the tenure of a sales property is set to 'Leasehold' you'll now have the ability to enter the newly required information: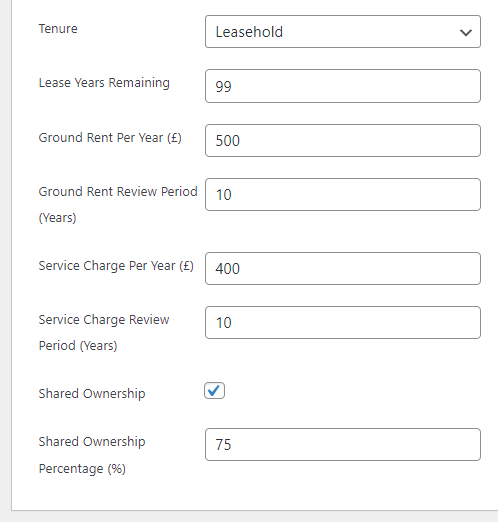 This in turn will be output as part of the meta template on the frontend if using the default template, or the 'Meta' Elementor widget if using Elementor: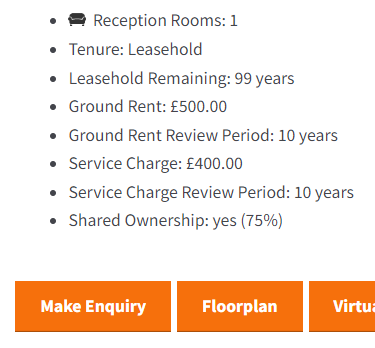 Real-Time Feed add on
If you're sending properties to Rightmove, OnTheMarket or Boomin using our Real-Time Feed add on, we've bought the add on inline with the latest specification changes and include the new data when sending properties to them.
BLM Export add on
Much like the Real-Time Feed add on, if your sending properties to a portal that uses the BLM format, we've updated our BLM Export add on too. The new column names added to the BLM are as follows:
COUNCIL_TAX_BAND
SHARED_OWNERSHIP
SHARED_OWNERSHIP_PERCENTAGE
ANNUAL_GROUND_RENT
GROUND_RENT_REVIEW_PERIOD_YEARS
ANNUAL_SERVICE_CHARGE
TENURE_UNEXPIRED_YEARS
Property Import add on
If you import properties into Property Hive from a third party estate agency CRM using our Property Import add on, we've added support for these new fields wherever we've been notified by the CRM that these new fields are sent in the data. At the time of writing we've only received notification from one CRM (Veco) of these changes.
If you're using a CRM that you know has added these fields but that we haven't updated, do get in touch and we'll look to seek out any updated documentation and map the fields accordingly.
These changes are the first of three phases. As more information is made available regarding the other two phases we'll continue to update Property Hive accordingly to ensure your estate agency is always kept compliant.