Our first core release of 2022, version 1.5.30, sees some exciting new features and enhancements. Let's jump right in and look at the key features below:
Email appraisal confirmations to property owners
On an appraisal record you'll now have the ability to send the owner or landlord of the property a confirmation email via a new action: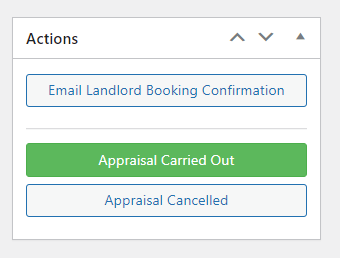 We already had this on viewings so to make it available on appraisals too seemed the next logical step.
The contents of the default email sent can be managed under 'Property Hive > Settings > Emails'.
Auto-Match enhancements
When using Property Hive as your estate agency CRM to perform automatic property alerts, a site with a lot of applicants (i.e. thousands) might start to slow down and automatic matches may fail. We've now performed some optimisations which should help auto-matches in these larger databases run smoothly.
And more…
Ensure og:image tag is included when using Yoast and images are being stored as URLs
Added 'Yesterday' as option to date range filter in backend on viewings, offers etc
Added filter 'propertyhive_query_search_form_currency' to override currency being used in search queries
PHP8 compatibility fix regarding obtaining featured property image
Ensured 'Property Hive-Only Mode' checkbox description is ran through __() so White Label add on changes this accordingly.