Last week we released the latest version of our popular Map Search add on. In this post we'll look at all of the new functionality recently added.
Display Different Icons Per Department
You could already upload a custom map marker icon, or even have a different icon depending on the property type. With this update you can now also have a different icon per department meaning you could have on icon for sales properties, and another for lettings.
This is useful should you wish to display properties from multiple departments on the same map, or if you have different branding for the different sides of your business.

Refined Draw-a-Search Controls
The draw-a-search feature allows users of your estate agency website to plot on a map exactly where they wish to search for properties.
This latest release contains two improvements to this:
– Added clearer wording to the buttons so it's more obvious what each button does.
– Added a new 'Exit' button so users can return to where they were before they entered the draw-a-search feature.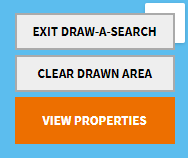 Override the popup HTML
The information displayed in the infowindow popup when clicking a marker is now customisable through the use of a new 'propertyhive_map_infowindow_html' filter, should you wish to change the layout or information displayed.
If you already have our Map Search Add on installed and have a license key present you can update to this latest version right away through WordPress. Alternatively click below to view more and purchase this add on