New Calendar Add On Update Including New Views, Printing and More
8th March 2021
---
Our calendar add on is one of our most popular products for estate agents using Property Hive as their main CRM. We've made some changes in our latest update to include new views, printing and the ability to tag appointments. Lets look at the latest features in more detail;
New 'Schedule' View
Our newest view allows you to see your schedule by day, week or month. Allowing you to see your appointments and anything else scheduled in to make planning your day more efficient.

Print Your Diary
If you're out on the road, taking a paper copy of your diary can be useful, especially if there is a lack of signal where you're going, or if just wanting to have a quick reference to hand without having to log into Property Hive each time.
The new 'Schedule' view referenced above can be printed and will contain in-depth details of the appointments, including full property addresses and contact details of the parties attending so you can get in touch with them accordingly.
Tag General Appointments To Properties or Contacts
When adding a general appointment you'll now be able to specify which property or contact this appointment is related to. This will then show on the diary including details of the selected record.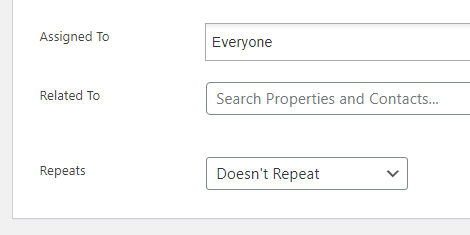 These new features have transformed the way our calendar add on can be used, giving you greater control of your day and helping you manage your appointments whilst out on the road too. You can update to the latest version via your WordPress dashboard, or if you're yet to use our calendar add on, you can download it below;
Do you want the latest news and updates on all our products and services direct to your inbox? Sign up to our mailing list below.