Calendar Add On Update: Introducing Recurring Appointments
17th May 2020
---
Using our Calendar add on you can see, at a glance, all the events that you and other staff members have coming up, such as viewings, appraisals etc. As part of this you can also enter general appointments such as meetings, staff holidays, and more.
We understand that these types of general appointments can happen on a recurring basis so we're pleased to announce that in the latest version of the Calendar add on (version 1.0.8) we can now cater for this accordingly.
When entering a general appointment you'll now have the ability to set the recurrence as daily, weekly, monthly or yearly: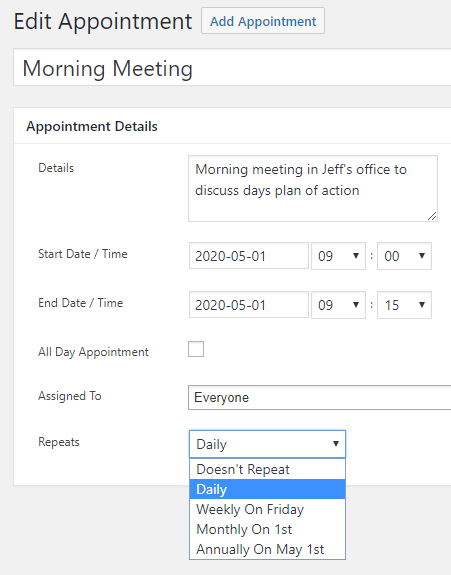 This will then be reflected on the calendar view itself:

We've found whilst building this feature that recurrence is actually quite a complex thing to replicate. We've lots more to add to this however in future releases, including:
Introducing more recurrence patterns (for example, every Tuesday and Thursday)
Adding the ability to set a limit on the number of occurrences (for example, recur daily up to 10 times)
Editing an occurrence to allow you to choose if the change should effect all events in the recurrence, only the current occurrence, or just future occurrences.
Introducing recurrence to tasks also when using our Tasks add on.
We look forward to working on these improvements in the near future and will write about these as and when they become available.