International Support Added To Rightmove RTDF and BLM Add Ons
20th September 2016
---
Our property portal add ons (the Rightmove RTDF and BLM Export) are two of our most popular add ons having sent thousands of properties to portals since their release. Both add ons have just undergone their first major update and can now support international properties.
Previously both add ons could only send UK properties. Seeing as we released our support for international properties to Property Hive back in January, it seemed to make sense to update these add ons to also support overseas properties, especially as we get more non-UK agents using the plugin.
Although the data sent to the portals differs between UK and non-UK properties, we've kept it dead easy to differentiate between them; the only addition being a new tickbox when setting up portals to specify it's an overseas portal. Everything else remains as easy as it was before.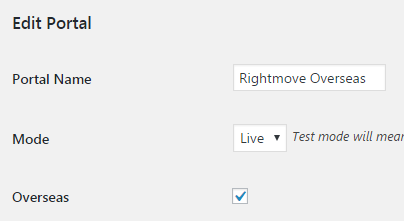 We hope you enjoy this update, especially if you're an agent that deals with international properties. We've got another big update coming to these two add ons in the next few weeks when we add full support for commercial properties, so watch this space.
View Rightmove RTDF Add On View BLM Export Add On