With the latest update to our Real-Time Data Feed add on you can now specify that properties should be sent exclusively to OnTheMarket only for 24, 48 or 72 hours before being sent to other property portals.
Back in 2017 we announced that OnTheMarket could support the Real-Time format using the existing Property Hive RTDF Add On.
One additional feature that OnTheMarket support however is the ability to specify that properties are exclusive to them before being sent to other third parties. This might be for 24, 48 or 72 hours. Our RTDF add on didn't previously support this so all properties would be sent to all portals at the same time, unless this exclusivity period was manually managed.
We're pleased to announce that this ability to send properties exclusively is now available with the addition of a new setting when setting up the feed to OnTheMarket: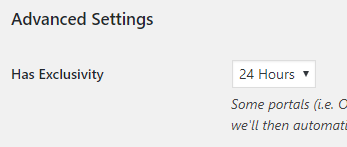 Once this option is enabled, regardless of which portals you've specified a property should get sent to, it will only get sent to OnTheMarket initially. We then have an automated task which runs at regular intervals to send properties to the other selected portals automatically once this exclusivity period is up.
This logic has also been added to our Zoopla Real-Time Feed and BLM Export add on so they too take this setting into account when deciding whether to send properties from WordPress.
If you're an estate agency interested in sending your property stock in real-time from WordPress to Rightmove or OnTheMarket, you can find out more about our Real-Time Data Feed add on below: