We've been hinting for a while that big things are on the horizon at Property Hive. This exciting new chapter started this week with the release of Property Hive Version 2.0.0 which is now available to download.
Firstly, this blog will cover the low down on what's new in Version 2 and what this means for you. Then, we'll then take a look forward into what's coming over the next few weeks and months!
What's new?
A new features dashboard in WordPress:
Our new features dashboard aims to revolutionise the way that you use Property Hive. The dashboard will save you time, make your life easier and give you access to more awesome features. Let's take a look at the benefits in more detail:
1. It's easy to manage your add ons
Turning add ons on and off is quick and easy with the new Property Hive dashboard. Thus you can clearly see what's installed on your site and add or remove features as required.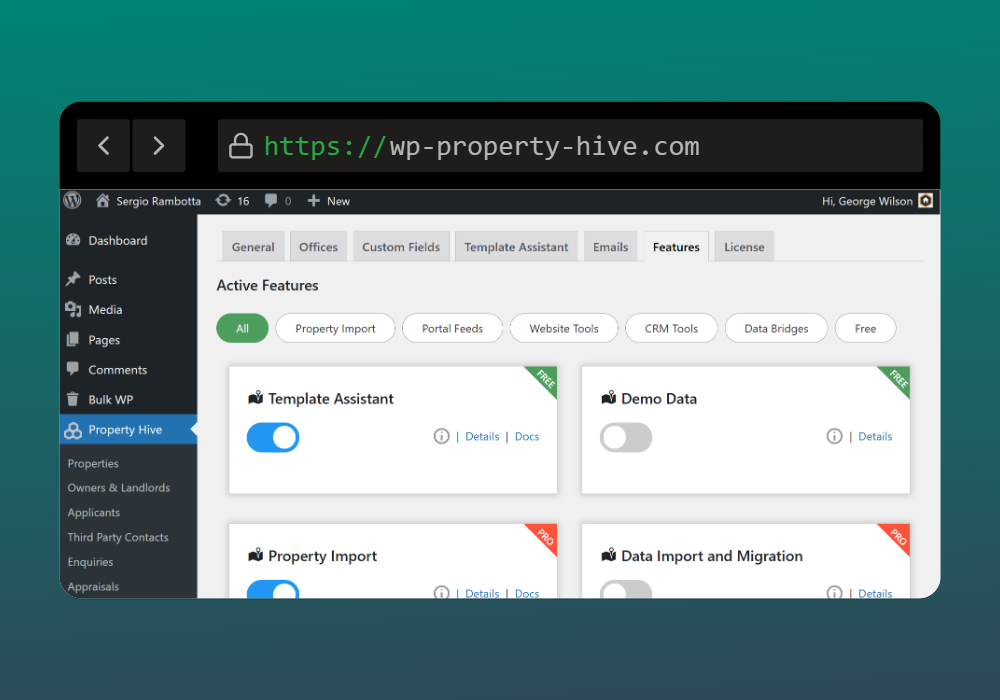 2. You can access more features
One of the key reasons we wanted to put all add ons together into one dashboard was to enable you to access the entire suite of features with ease.
From portal feeds to website tools, property import to CRM tools, we've got it all. Additionally, you can view and manage all add ons available to you by category, including what's free and what's included in a PRO subscription, in one place.
3. You don't need to manually install individual add ons
Manually uploading ZIP files is a thing of the past. That's right. With Version 2 of Property Hive, there's no need to upload an individual file for each feature anymore. Forget the files and simply toggle your add ons on and off!
4. You don't need to update Property Hive to see new add ons
The dashboard takes a live feed of add ons from the Property Hive website, meaning that it's always up to date with changes to add ons including new additions. Previously you would have needed to go onto the website to view any new add ons, but now these will appear automatically in your dashboard. Therefore, you'll never miss out on any features!
New Pricing
Back in September we issued a blog about our new pricing so if you'd like the finer details on why we've made these changes, do head over to that blog. To briefly summarise, we changed our pricing to make it simpler, give increased accessibility to Property Hive and to modernise our operations.
What does our new pricing look like?
1. Bundles
We now offer three bundles:
Free – Our free bundle includes everything you need to build a property website from scratch. It also includes a fully functioning CRM and some other front / back end add ons.
Import Only – This bundle includes our import products that allow you to import properties from your CRM to your website.
Unlock All Features – As it says on the tin. This complete package contains everything in the other bundles including all front end and back end add ons and portal feeds.
There is no longer any need for users to purchase a license key to access updates and priority support as this is now included as one cost under any PRO plan.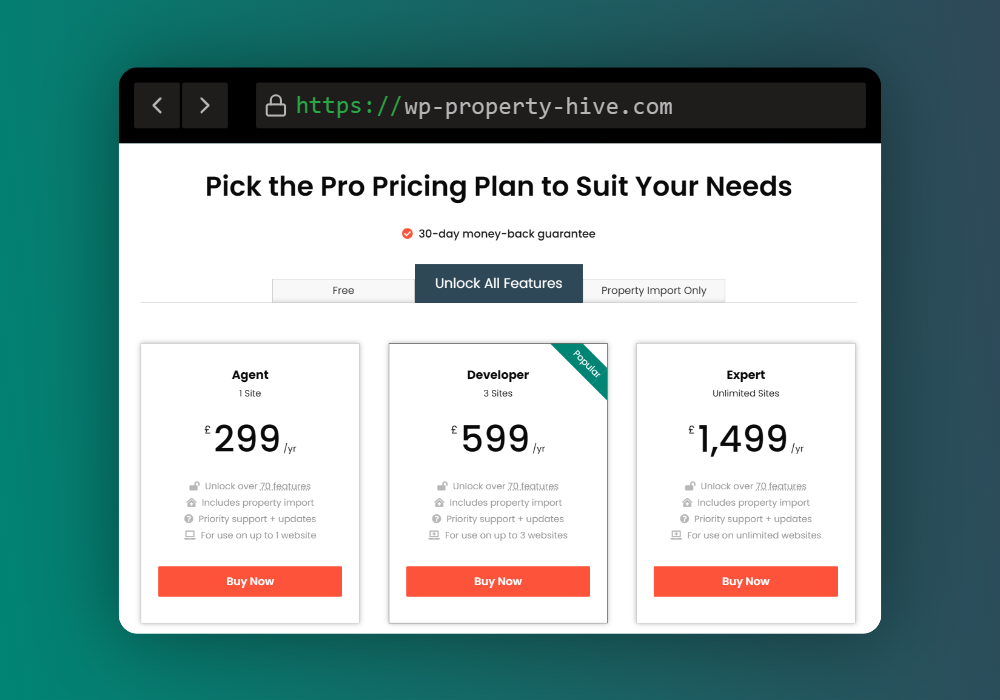 2. We have different packages to suit your needs
We now offer three levels of package; Agent, Developer and Expert. This approach aims to support our larger customers, whilst ensuring that the cost remains affordable for the individual agent. Larger customers such as developers and agencies building multiple sites with Property Hive are rewarded with substantial cost savings under our new model.
Please note that it will be possible to upgrade your package at any time.
3. Annual Pricing
All PRO bundles will work on an annual subscription basis. These can be cancelled at any time and have a 30 day money back guarantee.
What does the new pricing mean for existing users?
We will honour all existing lifetime licenses and license keys. This means that you can continue to use our products and if you have a license key you can continue to update them and access priority support.
If you have purchased products from us previously but don't have a legacy license key (purchased prior to 23.10.23) and you wish to update your products and access more features, you'll need a PRO subscription.
What's coming next?
A setup wizard
We're excited to be working on a setup wizard to make getting started with Property Hive even easier. The wizard will work in unison with the new dashboard to make setting up Property Hive a simple and pleasurable experience for all users.
We're revamping our documentation
Enhancements are coming to our documentation. Basically, this means a more complete library of articles that are categorised more efficiently and easier to find.
You'll be able to raise and track tickets from your Property Hive account
We're adding the ability to raise and track support tickets from within your 'My Account' area of the Property Hive website. We're hoping these changes will improve accessibility to support and make it easier to resolve your issues.
---
If you've already started using Version 2, we hope that you are enjoying it! We are always happy to hear your feedback and feature requests, so please do get in touch with your thoughts and ideas.
If you're new to Property Hive, get started with our free version now!