Important Updates to our Pricing
13th September 2023
---
On the week commencing 9th October 2023 we'll be making some updates to our pricing model. A lot has changed since Property Hive began in 2015 but our passion for proptech and commitment to quality have remained the same. Our prices have also not changed in the last 8 years despite the increased quality and breadth of our software, popularity of our plugin and our solid reputation.
Under our new model, it won't be possible to buy add ons for lifetime use anymore. Rest assured though that we will continue to offer the best proptech products for WordPress at value for money. We're just adapting our pricing model to make it more suitable to our customers and the current market. After all, lifetime licenses don't really exist anymore.
We will continue to honour lifetime purchases and license keys, so if you're a current user, not much is changing for you.
If you know you'll be building a new website or plan to enhance your site in the future though, things will be different. Here's the low down…
Why are we making these changes?
1. To make things simpler
We have so many add ons on offer and quite simply, it's confusing. In addition, under our current model add ons are charged as a one off cost, whereas our license keys are charged annually. You've told us that this can be confusing, so we're streamlining our offering to make it clearer for our customers.
2. To make Property Hive even more accessible
At the moment each of our add ons require an individual upfront cost. Our new model introduces bundles that offer a more cost effective way to access all of our add ons without the large initial financial outlay.
3. To give you access to the complete toolkit
You might know us for our Property Import add on at the moment. So, did you know that…
You can build an entire estate agency website from scratch with Property Hive (and a good one at that!)?
We have add ons to enhance your site that do, well, basically everything?
We have a free, complete CRM with extendable functionality?
Well, you do now! With our new model, you can access everything that you need for your back and front end infrastructure for one annual cost.
To support this, we're very excited to be launching our new dashboard in WordPress. This new interface aims to enhance user experience by giving you access to everything Property Hive has to offer in one place. It comes with the ability to toggle functions (add ons) on and off as required allowing you to access more tools and manage your website more easily. Watch this space for more information about this over the coming weeks!
4. Lifetime licenses are a thing of the past
The software world changes so rapidly. This is great because it means that consumers can always keep their finger on the pulse with new technologies. It does however make it difficult for companies like ours to commit to lifetime licenses and one off costs. Our products and offering simply won't look the same in five years time, even in a year's time and we need the flexibility to be able to keep pushing forward with new products and developments.
5. We haven't changed our pricing in 8 years
That's right, 8 years. Adapting our pricing model means that we can continue to develop and maintain the quality of our products and the quality of our support. This will, in turn, ensure the growth and sustainability of Property Hive for the future.
How do we currently operate?
At the moment we sell our add ons individually for a one off charge per site. This purchase entitles lifetime use of that add on.
Alongside this we offer an optional subscription (license key) which is paid for annually. This license key gives users access to updates and priority support.
What changes are we making?
In simple terms, our add ons will no longer be available for individual sale. We will also no longer be offering a license key subscription.
1. Bundles
Instead we will be offering three bundles:
Free – Our free bundle includes everything you need to build a property website from scratch. It also includes a fully functioning CRM and some other front / back end add ons.
Import Only – This bundle includes our import products that allow you to import properties from your CRM to your website.
Complete – As it says on the tin. This complete package contains everything in the other bundles including all front end and back end add ons and portal feeds.
Under these new plans there will be no need for users to purchase a license key for updates and priority support as this will be included as one cost under the plan.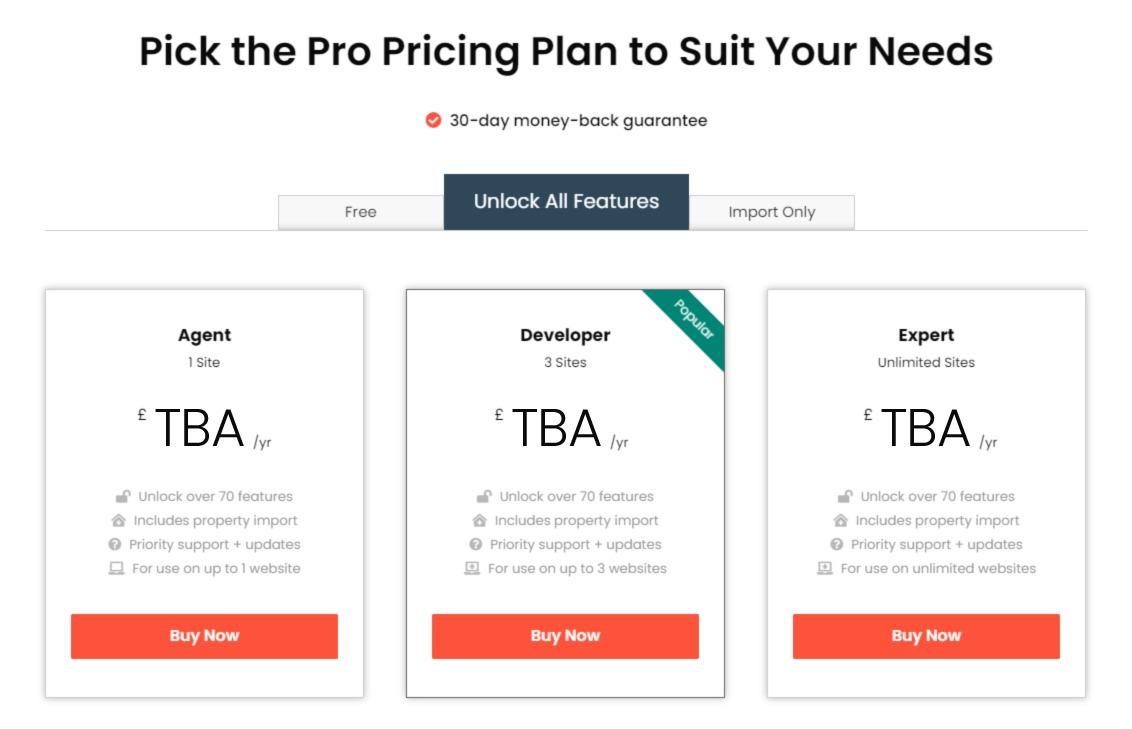 2. We're offering different packages to suit your needs
We will now be offering three levels of package; Agent, Developer and Expert. This approach aims to support our larger customers, whilst ensuring that the cost remains affordable for the individual agent. Larger customers such as developers and agencies building multiple sites with Property Hive are rewarded with substantial cost savings under our new model.
Please note that it will be possible to upgrade your package at any time.
3. Annual Pricing
The bundles will work on an annual subscription basis. This can be cancelled at any time and has a 30 day money back guarantee.
I'm an existing user. How does this affect me?
We will honour all existing lifetime licenses and license keys. This means that you can continue to use our products and if you have a license key you can continue to update them and access priority support.
Here's the important bit:
If you don't have a license key at the moment and you are planning to maintain our products for the foreseeable future, you might consider purchasing a license key. At present, it isn't possible to update to the latest version of any purchased add ons without a license key and this will continue to be the case.
This means that if you don't have a license key after we make these changes but then decide that you want to access update/s in the future, you will need to purchase an annual bundle subscription. If you know you will only ever use one or a couple of our add ons, it may be more cost effective for you to purchase our license key prior to our pricing changes in order to ensure you can access updates to those current products. We will continue to offer license keys until the 8th October.
If you are happy using the version that you purchased and manage without updates, that's also ok too.
When are these changes effective from?
These changes will be made in the week commencing the 9th October 2023.
Contact us:
We know that change can be daunting so we're doing everything we can to be as transparent with you as possible and make it simple for you. Therefore, if you have any questions about these changes please do not hesitate to contact us at info@wp-property-hive.com.