Version 1.4.53 Released – Notes Filter and More
18th January 2020
---
This week sees a fairly small release go out as we continue work behind the scenes on some exciting functionality coming soon. More to follow on this.
In the meantime, let's look at what you can expect to find after updating to the latest version of Property Hive for WordPress.
New Notes Filter
With notes being such a key part of any estate agency CRM software, we've been doing a lot of changes recent releases to improve this area of Property Hive. This included moving them to make them more useable, as well as enhancing which notes show where.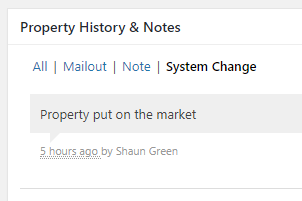 In this release we've added a new filter to the notes grid so you can select which types of note you wish to show. Over time, this list of history and notes can grow and become quite a busy area of the record so with this filter we hope to make it easier to see only the entries you're interested in.
Postcode Search Enhancements
When a user searches for properties on your website, we now support postcodes being entered without a space. Previously if the user would've searched for 'B388SD', for example, it would've returned no results. Now we will cater for this scenario and return properties accordingly.
And More
We'll now automatically fill the 'Match Price Range' fields on when entering an applicant' maximum price on their record for the first time
Small performance optimisation when generating applicant list under 'Property Hive > Applicants > Generate Applicant List'