Version 1.4.52 Released – Improved Note Management and More
6th January 2020
---
If you're using Property Hive as your primary estate agency CRM software this release may be of interest to you. Our first release of 2020, version 1.4.52, is now available and contains the following improvements:
Improved Note Management
We've made significant changes to the way in which notes are stored and displayed. Previously, any note added to a viewing, for example, would only appear on that viewing, however with this update we now ensure the note is also displayed on all related entities. A note added to a viewing will now appear on the property, the owner and the applicant records. This rule applies to all post types.
When a note has been entered via another record we'll flag this and show where it was originally entered and what record it's primarily related to: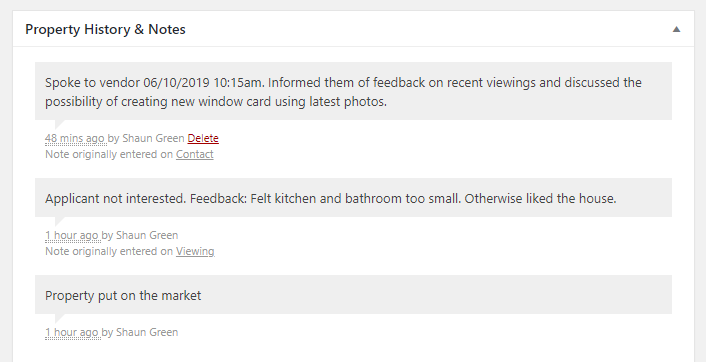 Notes and history are paramount to the running of any estate agency and we hope that by increasing the visibility of these notes we can reduce errors by things being missed whilst improving efficiency.
Improved Search
When searching for viewings, offers and sales by a keyword now within the admin area of WordPress, we'll also search the property address and applicant name.

If you're interested in using Property Hive as your estate agency CRM software and receiving regular improvements like this you can download Property Hive for free here: