Version 1.2.6 Released – Notes, Enquiry Enchancements and More
7th December 2016
---
In this post we'll be looking at all of the key functionality that has been introduced in the last 6 releases since we released version 1.2 containing applicant matching and emailing.
We don't tend to post about every single minor Property Hive release as they might only contain a few small tweaks that aren't worth writing about. Instead, in this post we'll be looking back and collating all of the recent updates from the past month into a single post.
Now match commercial properties to applicants
Previously you could only add requirements for residential sales and lettings applicants. Now you can record commercial applicants and benefit from all of the same functionality that residential applicants had, including matching and emailing commercial properties to them.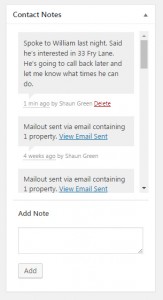 Notes
Against properties, contacts and enquiries, you can now enter your own notes. Adding notes is a great way to keep track of what has happened, any correspondence you've had, or to leave messages and key information for other members of staff.

Improved property search when searching for postcode
When allowing your users to search by address on your website, a search for postcode prefix SE1, for example, would also return properties in SE10, SE13 and so forth. We've made improvements to cater for this, ensuring only relevant properties are returned when a search for a postcode prefix is performed.
Improved WordPress admin property search
As well as tweaking search on the frontend, the backend of Property Hive has also had improvements made to it's search. When logged into WordPress and searching for a property, the search will take into account the full address, as well as the reference number. Previously it would only search the display address for matching terms.

Enquiries Are Now Shown On Property Records
The 'Enquiries' module provides a great way to keep track of and manage enquiries made about properties through your estate agency website. On a property record now you can quickly view, at a glance, all of the enquiries made about each particular property.

Create a Contact From Within an Enquiry
When an enquiry has been received, you can now quickly generate a contact from that enquiry, saving you from having to copy and paste their information across. At the click of a button from within each enquiry, a contact will be created and their information prefilled.
Edit Photos
You can now edit previously selected photos from within the property record. previously you could only delete and re-order photos. Now you can edit existing photos should you wish to add captions or titles, as well as replace the photo altogether.
License Keys
We'll be posting about this in a lot more detail very soon, however we've introduced the ability to purchase license keys and to enter the key within the 'Settings' area of Property Hive. These license keys offer priority support, as well as updates to any purchased add ons. Again, we'll be posting about this in more detail soon as we roll it out.
Tested with WordPress 4.7
WordPress 4.7 was out yesterday and we're pleased to say that Property Hive continues to function without issue.
As always, all feedback and suggestions are more than welcome relating to past and future releases. We hope you enjoy the features mentioned above. Don't forget to keep an eye on our feature roadmap to see what's coming soon.