Version 1.4.48 of our WordPress plugin for estate agents has just been released and contains a whole host of updated functionality. Let's jump right in and take a look and what's new:
New Dashboard Widget
Upon logging into WordPress you'll now see a new dashboard widget showing your next 10 upcoming appointments, such as viewings and appraisals:

The widget will only show if you use the appraisals or viewings functionality within Property Hive and is a great way of seeing what you've got coming up in one place, especially if you don't use our Calendar add on.
Number of Enquiries Shown in Menu
If you've opted to store and manage property enquiries within Property Hive you'll now be notified how many are pending action right from the menu.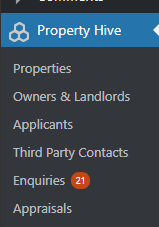 This is a great way to be notified of new enquiries without having to click into the Enquiries area each time.
New Separate API Key for Geocoding Requests
If you use an add on such as our Property Import add on or Radial Search add on, they require the ability to convert addresses into latitude and a longitude co-ordinates. We do this using the Google Geocoding service which works great, and has done for many years now.
When you setup your Google Maps API Key, Google recommend adding a referer restriction to any keys setup to ensure that they can only be used on sites that you specify. This also means someone couldn't steal your key and use it on their site, thus eating into your credit.
The only problem we've seen with this it that, in adding a referer restriction, it's prevented the Geocoding from working due to the fact these requests are done server-side and therefore don't have a referer as such.
To get around this we've not introduced a separate API key field when applicable: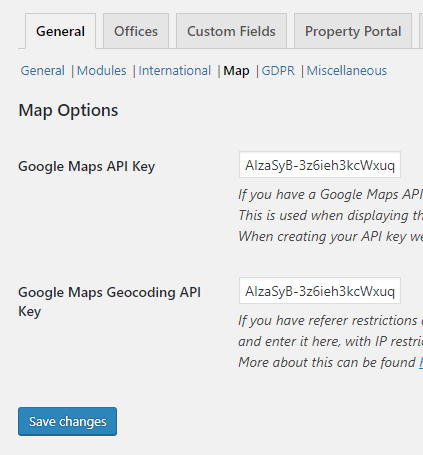 This means you can have one API key setup as normal for standard map loads which would have any referer restrictions applied, and a separate API key just for Geocoding requests. If you wanted to lock this one down too you can then add IP restrictions.
And Lots More…
As well as the above, the following has also been released in this version, and other recent versions:
Changed 'contact' post_type so publicly_queryable property set to false
Added ability to order by more fields (i.e modified) without having case for each
Prevented extra line breaks being output in commercial full description when no description name is present
Corrected issue with search form field defaulting to wrong value when field in search form shares same name as property object property (i.e. 'bedrooms')
Removed 'paged' as hidden field in search forms so fresh search is ran again on form submit instead of sometimes staying on same page
Added ability to choose contact type when adding contacts direct to prevent contacts getting lost, especially if no relationship was entered right away
Removed hardcoded departments when determining default department in search forms in the event a third party plugin has added a new one
Prepended meta key with _ when doing REST API requests to prevent 2 queries
Added filters to REST API so data returned can be customised
Declared compatibility for WordPress 5.2.3
Added 'Company Name' as new field on contact details
Display price qualifier in admin property list
Don't save negotiator ID on enquiry if set to -1 as this was causing it to think it was assigned
Fixed typo in third party contact categories: Solictor
Allow decimal point in sales price
Cater for no availabilities having been selected under 'Property Hive > Settings > Emails > Only Include Properties With Statuses' when returning matches
Make contact an applicant when put onto a viewing if not already and add a note to their history
Fixed undefined index error when matching properties when 'Send Matching Properties' field not present
If you have Property Hive installed already on your estate agency website you can update to this latest version of the plugin right away through WordPress.