Version 1.3 Released – New Viewings, Offers & Sales Modules and More
9th January 2017
---
Today sees us take our next step towards becoming fully-fledged property software for estate agents. With the introduction of our new viewings, offers and sales modules, this makes Property Hive the ideal solution for start-ups and small agencies that don't currently use any kind of property software.
This release has been a long time in the making so we're really pleased to finally be getting it out there for you to use. We've included the key features below, along with a list of other functionality released in this latest version:
Book New Viewings In Seconds
It takes literally seconds to book a viewing (our record is 3 seconds). You can book new viewings from the property record, the applicant record, or from the main viewings section of Property Hive. Below you can see a quick animation of how easy it is book a viewing from within the property record: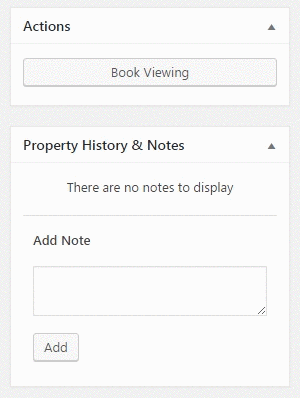 I think you'll agree, it doesn't get much simpler than that. Once the viewing has been booked, you are presented with quick links to either navigate to the applicant to record or amend their requirements, or to the viewing should you need to edit any of the information entered.
From that point forward, you can use Property Hive to record all aspects of the viewing; track when it's been carried out, record the applicant feedback, book a second viewing, or proceed to make an offer.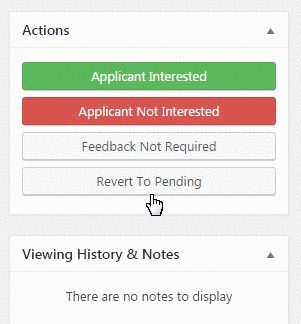 We've also added a widget to your dashboard so you can see which viewings require chasing as soon as you login.

Track Offers and Sales
As well as viewings you can also record, and track the status of, offers and sales. As well as recording the property, applicants, dates and amounts, you can also enter the solicitors involved in the sales process.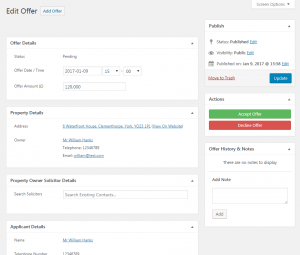 As with viewings, you can track the status of offers and sales as they progress. Each time the status changes a log will be written so you and other members of staff can keep track of when key events took place.
Disable Unused Modules
We want to keep Property Hive clean, simple and easy-to-use for everyone. We appreciate that not everyone wants to use all aspects of Property Hive. Some agencies simply want to record properties for displaying on their website, and others want to use everything.
As a result, we've added a new 'Modules' section to the Property Hive settings area where you can choose to hide certain functionality should you not wish to use it.

Features As Checkboxes
Previously when entering features on a property record, you could add an unlimited number of freetype features. One request we've had a few times is to make these features a list of checkboxes so a user can simply check the ones that apply. For some this makes it quicker and easier to enter the property, and also reduces the chance of spelling mistakes.

This new setting can be found under the 'Miscellaneous' section of the settings area. Once activated, the features available for selection can be managed via 'Settings > Custom Fields'.
Existing users can update to this latest version of Property Hive from within WordPress. As with any updates we recommend you perform a backup first.
We always appreciate feedback from our users regarding new functionality and would love to hear your thoughts on this. We'll continue to expand on the features mentioned above over time so watch this space for future updates.