It's been a while since our last release. We've been moving office, as well as trying to improve our internal systems which is ongoing and more will be posted about this soon. We have however managed to just release version 1.4.23 of Property Hive which we'll look at in this post.
Viewing Confirmations
This latest version sees the addition of viewing confirmations. Now you can record who has confirmed they will be attending the viewing, but more importantly, who hasn't.
When editing a pending viewing you'll now have a new 'Confirmations' section available that lists the attending negotiators, applicant and property owner, and allows you to select which parties have confirmed: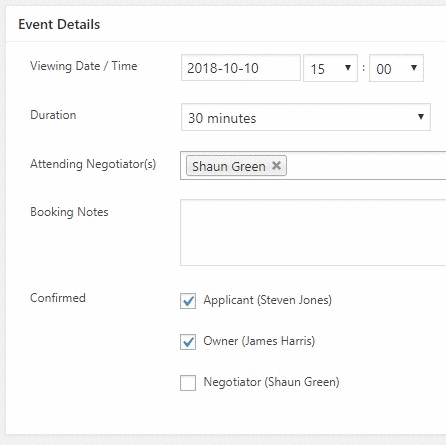 We have also added the confirmation status to anywhere a viewing is displayed, such as the main Viewings screen, so you can see at a glance which viewings are awaiting confirmation from someone: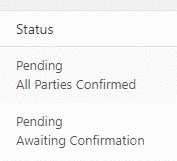 New Viewing List Filter
Related to the above, we've now added a new filter to the main Viewings screen in WordPress allowing you to filter viewings based on their status: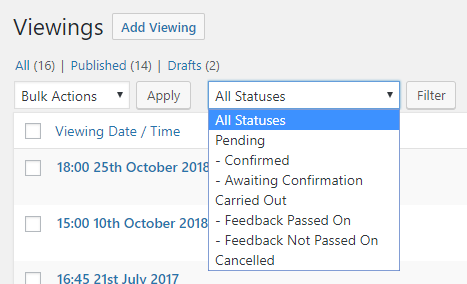 And More…
As well as the above, this version has seen a few smaller improvements and fixes:
– Remove 'Mine' view option from property list
– Allow for homepage to be used as search results page
– Fixed POA display when properties loaded via AJAX (i.e. infinite scroll)
– Added ability to output message/HTML in shortcodes if no results
– Added new action to matching screen to allow other sending methods to be added in future (i.e. SMS property matching)
– Display the send method (e.g. email) when showing if property previously sent when matching
– Stripslashes when setting input value from $_GET on any kind of form
– Added CSS allowing for adding of flags by Template Assistant add on (a new feature coming soon)
We've got more updates coming soon to both the core Property Hive plugin and to some of our add ons which we'll post about as and when they're released.
We love to see estate agency sites continue to be built using our plugin and look forward to bringing you continued new functionality in the near future.