Version 1.4.50 of Property Hive Now Available – Hot Applicants and More
12th December 2019
---
We've released 22 versions of Property Hive for WordPress during 2019 containing 240 individual changes, and this doesn't even include updates to our add ons. It's been an amazing year so we wanted to end on a high with a fairly large release containing lots of new functionality.
Version 1.4.50 of Property Hive has just been released so let's take a look at what's included below:
Hot Applicants
When a potential buyer registers on your mailing list, they generally fall into one of two categories; they're just browsing and seeing what's available, or they're ready to buy. You can now track the latter by flagging them as 'Hot' in Property Hive.
These hot applicants will then be flagged accordingly in the main applicants list, and will also appear at the top when performing property matches.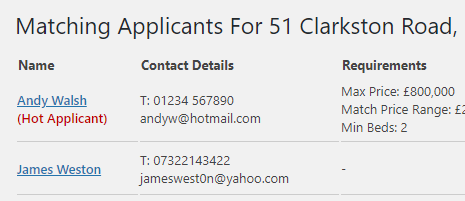 You can also filter the list of applicants to only see 'Hot' ones.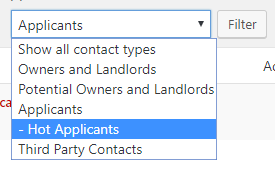 History & Notes Moved
Previously we would show the 'History & Notes' box for all records in a small space in the right sidebar.
It was becoming apparent that for estate agents who use this feature heavily, it was just too confined when entering lots of notes, and it especially wasn't great when it came to entering long notes.
As a result we've now moved this to it's own tab: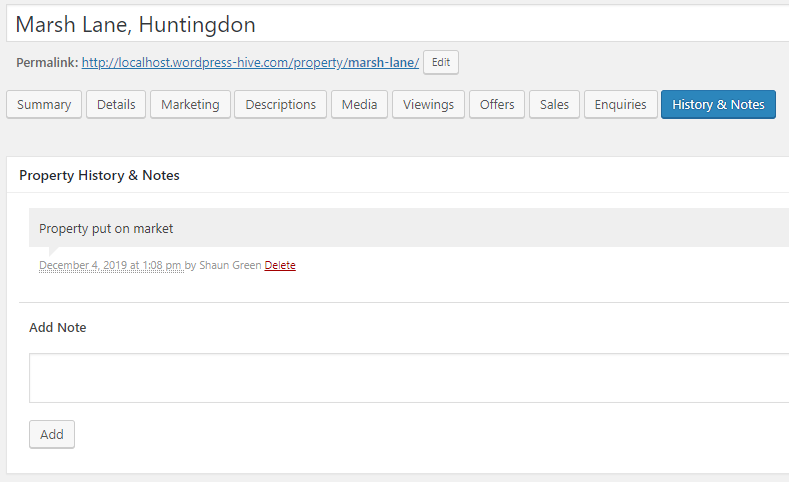 What this also allows us to do now is to expand on this feature more in the near future with the extra space we have. We could allow notes of different types, allow the uploading of documents, and much more.
Remember The Selected Tab
We're really proud of our tabbed layout when it comes to editing things in Property Hive as we feel it offers a really clean way to navigate records.
One thing that's never worked quite right with them however is that it would always revert back to the first tab when you saved or refreshed.
With this update it will now remember exactly which tab you last clicked so when you refresh of update a record, you'll be returned to where you left off.
And Much More
We've included below the rest of the changelog containing what else has been released recently:
Added an office filter to the Enquiries list
Show 'Property' or 'Properties' accordingly in enquiry email based on whether multiple properties are present or nort
Added new option to taxonomy dropdowns to only include top-level terms
Updated price templates to include price qualifier for commercial sales properties
Renamed 'Sale Date / Time' to just 'Sale Date' in column header in sales list
Increased number of match emails sent every 15 minutes from 5 to 25
Passed shortcode attributes through to property search form filters as an extra parameter
Updated 'Generate Applicant List' to replace from/to on price and beds fields for single fields
Added support for negotiator_id attribute in [recent_properties] and [featured_properties] shortcodes
Added Malta to list of supported countries
Corrected issue with duplicate header and footer when previewing email
Corrected issue when generating applicant list where, when filtering on property type or location, it wouldn't take into account parent/child terms
Added new filter 'propertyhive_single_property_image_size' so image size on details page can be changed. Default 'original'
Added new filters 'propertyhive_property_enquiry_property_output' and 'propertyhive_property_enquiry_post_body' to property enquiry body
Added new filter 'propertyhive_show_my_upcoming_appointments_dashboard_widget' to allow third party add ons to specify whether upcoming appointments widget should show
Declared compatibility for WordPress 5.3
Looking Ahead to 2020
We'll be writing a blog post in the coming weeks announcing our plans for 2020 so watch this space.
In the meantime, if you ever want to get more involved in how Property Hive progresses going forward, don't forget you can contribute via Github, or see what's coming next and suggest your own features on our Feature Roadmap.