New Add On Released: Postcode Lookup
27th June 2016
---
Our tenth add on, called 'Postcode Lookup', has just been released and aims to make adding properties to Property Hive quicker, easier and with more accuracy.
Postcode lookup is a common method of inputting addresses whereby you enter a postcode and it brings up a list of addresses that exist in that postcode. There are a number of benefits to adding addresses in this way, as opposed to entering the full address manually:
– Much quicker and easier
– Reduces the chance of user error and spelling mistakes
– Increases consistency by ensuring variations of addresses all match. For example, 'St. James Road' vs 'St James Rd' vs 'Saint James Road'
The add on is priced at just £14.99 and integrates into your existing Property Hive installation at the click of a button.
View More Details and Purchase
Our Integration Partners
There are third party services dedicated to providing this address information which we've partnered with to offer this feature to you. We've integrated with three of the leading providers so you can choose the one that best suits your needs. So far we've integrated with:



The above all offer different payment plans and provide a free trial period so you can try them out before committing.
Once you've chosen your provider, simply enter the API key they provide into the 'Settings' area of Property Hive and you'll instantly be able to take advantage of this feature.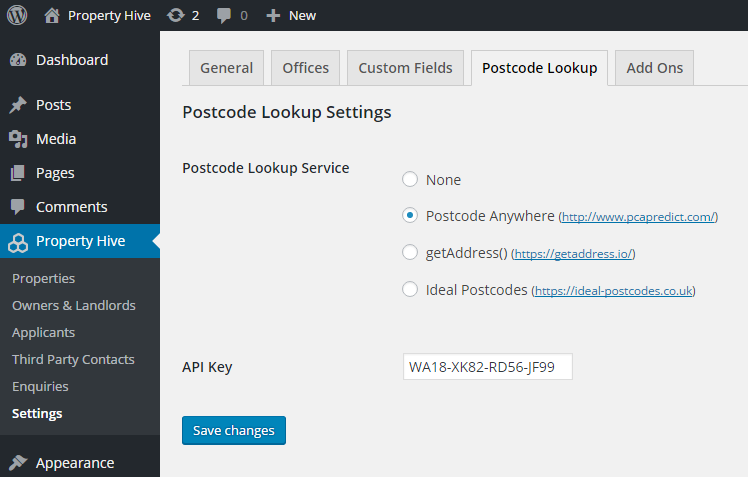 We hope you enjoy this latest add on. As always we appreciate all feedback so would love to hear your thoughts.
View More Details and Purchase