We're pleased to announce that our latest add on is now available to download allowing you to manage and display student accommodation and room breakdowns.
Student accommodation is big business yet, oddly enough, there isn't anything available for WordPress that specialises in this area. Unless you get something bespoke created, or hack a plugin that deals with hotel rooms, you're pretty stuck.
That's why we've released our new add on aimed specifically at managing and displaying properties with individual rooms, such as house shares, student properties and student halls.
Extending The Default Departments
Before we released this add on we needed to make some changes to the core Property Hive plugin. Previously we had just three departments available to choose from: Residential Sales, Residential Lettings and Commercial.
These were pretty hard coded throughout the code base due to which department was selected then effected the functionality across many areas of the system.
We've now altered this so any third party plugin can add their own department. This opens us up to achieve so many things going forward where properties don't fall into one of the three default departments. This might include things like auctions, holiday homes and much more.
Once you activate this add on you'll see this in action whereby you'll be presented with a new department to choose from: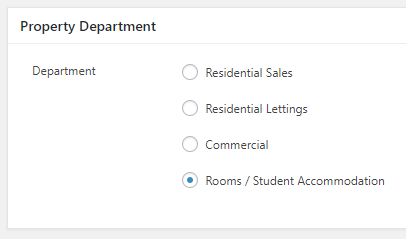 Managing Individual Rooms
Now to the heart of the add on; recording the individual rooms. You'll have the ability to enter an unlimited number of rooms against each property.

For a standard house this might be each individual bedroom, or for student halls this could be the room type, such as 'Classic Single' or 'En-Suite Double'. Against each room you can then record a wide array of information including the price, description and even upload a photo. In the near future we'll also be opening up these fields so they can be customised by you to match your needs.
Once you've entered all of the rooms they will instantly be displayed on the frontend of the website under a new 'Rooms' header: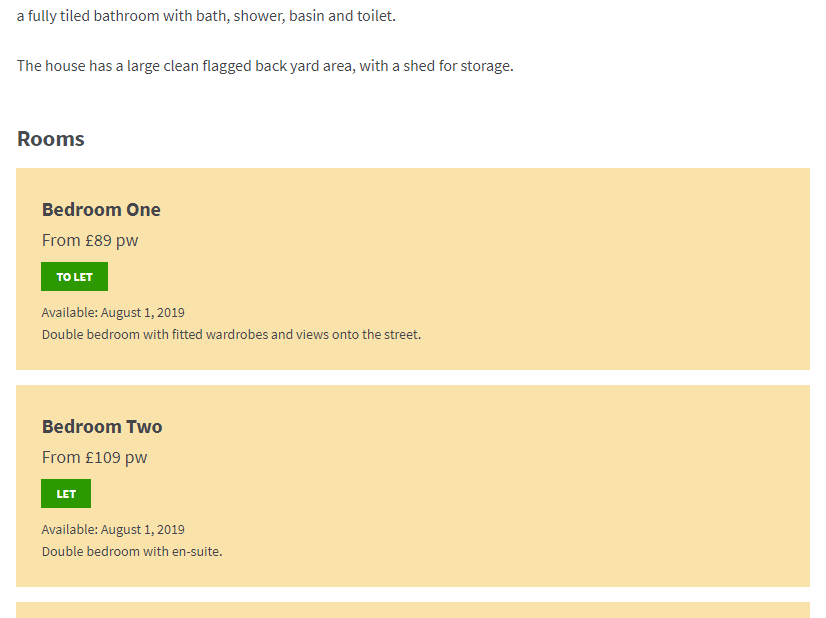 As with all things in Property Hive, this can be altered, moved and/or customised using actions or by overriding the template that comes with the add on.
As always we look forward to hearing your thoughts and feedback on this new functionality. For more information or to purchase the add on simply follow the link below:
View Student Accommodation Add On