A new version of our Property Shortlist add on has just been released and contains new key functionality allowing users to save properties to their account when logged in.
Our Property Shortlist add on is one of the more popular downloads and is of great benefit to estate agency sites built in WordPress as it allows potential buyers and renters to save properties of interest.
Previously any shortlisted properties would be saved to a cookie that expired after 7 days. This is great as it means you didn't need to create an account to save properties. however it's not so great if they switch to another device, or don't visit the site within a week.
With this new release, assuming the user has registered and has an account, when they save properties they'll get saved to the cookie as well as their own account if they're logged in. This means that properties will always be shortlisted, regardless of device or time until next visit.

Within the user's account there will now be a new tab called 'My Shortlisted Properties' where any properties they've saved will reside.
What's also neat with this new release is, if the user isn't a member yet or hasn't logged in but they go and save some properties, if they then register or login any previously saved properties will be transferred to their account so they won't lose any properties they're interested in.
One last useful piece of functionality in this release is that, as an admin user logged into WordPress, you can see which properties an individual has shortlisted. From within their record in Property Hive any shortlist additions or removals will be logged into the 'History & Notes' area: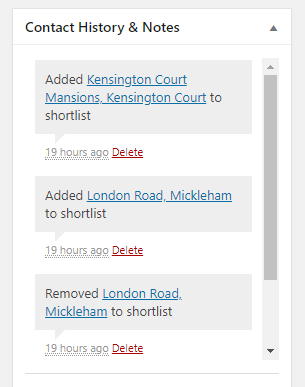 We hope you enjoy this update. As always we'd love to hear your feedback. If you have a license key and have already purchased the Property Shortlist add on you can download the latest version through WordPress now. Alternatively you can purchase the add on now by following the link below:
View Property Shortlist Add On