Property Hive 1.5.2 Released
29th March 2021
---
It's Monday, which means release day here at Property Hive. Version 1.5.2 is now available and contains the following:
Feedback Received Date Displayed On Viewings
When feedback is added, either by a negotiator within WordPress or by the applicant using our Viewing Feedback Request add on, we'll now record the date on which this feedback was received and display this accordingly.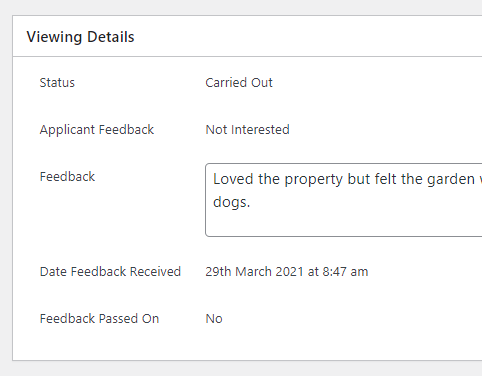 More CSS Control Over Property Details
On the property details page of your estate agency website we've now added a host of new classes to the body tag, for example:
<body class="availability-for-sale property_type-detached-bungalow tenure-freehold department-residential-sales on-market-yes featured-yes">
This allows different styling to be applied based on a property's features or for elements to be shown/hidden. For example, hide the price if a property is sold,
And More…
* Improved contact creation from enquiry including better checking for phone numbers and email addresses to support enquiries from different sources where the field names aren't always the same
* Added new filter 'propertyhive_tenancy_meter_reading_types' to customise meter reading types shown on a tenancy
* Added new settings to store applicant registration and login pages. This allows us to redirect to the my account page if someone is already logged in but lands on the login page. These new settings are also used by other add ons which interact with a clients account
* Swapped order of meter readings and management tabs on a tenancy record
* Corrected error on tenancies list when tenants have no contact details entered
* Corrected typo in various success messages: succesfully -> successfully
* Corrected action name for custom deposit scheme fields
What's Next?
This week we're working on support for the new Boomin portal being launched this week, as well as a new tool to allow you to import demo data to assist estate agents and WordPress developers getting started with Property Hive.