New Add On: Template Assistant
25th November 2016
---
It's Black Friday today and, instead of offering discounts that last just a day, we've launched a new free add on which will be useful at any time. This new add on is Template Assistant and is the first step in making it easy for anyone, developer or not, to get Property Hive looking how you want.
As we've mentioned many times before to people, Property Hive isn't a theme, but is a platform for estate agent sites built with WordPress . What that means is that it comes with a whole host of components you'd normally find on property websites (search forms, search results page, property details page, and much more) and it's up to the developer to make these components fit into a theme of their choice.
Although this approach is great as it means you can use Property Hive with any theme, it does mean you need a little coding experience, as well as the need to learn how theming the templates works.
Introducing Template Assistant
We've built the Template Assistant add on for two purposes:
1. To make it easier for non-developers and less experienced developers to get started with Property Hive.
2. To reduce the need to get knee-deep in code by providing a front-end settings area.
This first release of the Template Assistant add on is being launched as a beta release and is limited to only allowing customisation of the search results page. Using two customisable settings available, 'Properties Per Row' and 'Layout', it's possible to generate a whole host of layouts.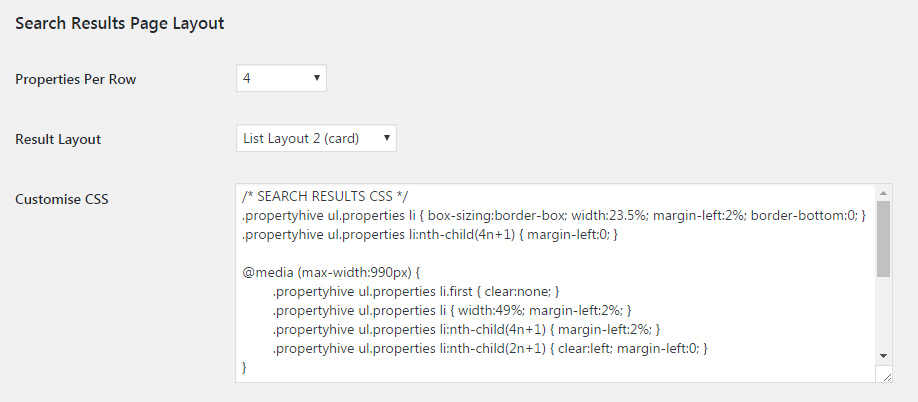 Once you choose from the two settings it then auto-generates and displays the CSS allowing you to customise it further if required.
Where We're Heading
As mentioned above, this currently only allows customisation of the search results page. In future releases we'll be looking at adding more search results layouts, as well as adding customisable settings to the full details page, and search forms. Essentially, we're aiming to make every Property Hive component editable through WordPress without the need to be a code wizard.
We're really excited by this as it opens up the door to so many more people, including estate agents themselves.
The Template Assistant add on is available as a free download now. We would love to hear your feedback and will post again when more functionality has been added.
More Details And Free Download