Checklist Add On Update – Track Sale Chain Progression and More
28th June 2023
---
Our Checklist add on is a great way to add a checklist to a record in Property Hive. You might track the status of a tenancy application or keep on top of a sales progression.
With our latest release of this add on we've implemented multiple new features:
Track Sales Chain Progression
You can now add multiple checklists to a sale record. This allows you to add the sales in the chain above or below the sale in question and keep track of where each of them are at resulting in reduced delays and to manage vendor expectations.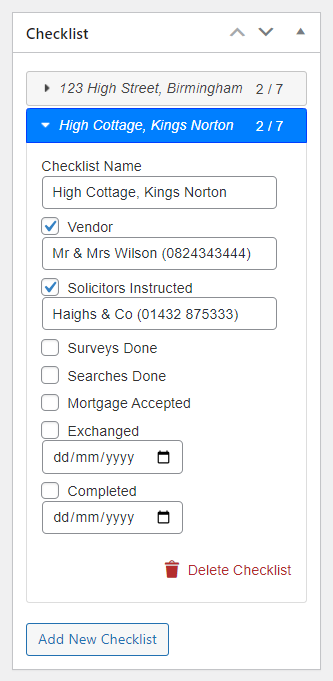 Simply click 'Add New Checklist' to add each sale in the chain. If more than one checklist exists it will turn into a useful accordion layout. You can also drag and drop them should you need to correct the order in which they appear.
Reorder Checklist Items
When managing the items that appear in the checklists under 'Property Hive > Settings > Custom Fields > Checklist Items' you can now reorder these to ensure they're in the most logical order:

If you've already got this add on, simply update to the latest version to benefit from these enhancements. If you're using Property Hive as a CRM but don't already have this handy add on, you can purchase and download it here to start using it immediately.
If you're completely new to Property Hive, download our core plugin here to get started. In addition to our free CRM, you can use Property Hive to power the property search side of your website and import your properties from a 3rd party CRM to be displayed on your website.