Calendar Add On Update – Saved Filters and More
13th December 2019
---
Version 1.0.6 of our Calendar Add On has just been released which contains a number of time-saving and usability improvements. Let's take a look at some of these below:
Saved Filters and Views
The diary of an estate agent is key and most likely one of the areas where they spend a lot of time. As a result, ensuring it's as efficient as possible is important.
In this release our WordPress calendar will now remember which negotiator filter you had set, as well as which view (day, week or month) you were last on.
When you then navigate away from the calendar and come back, we'll default the selected negotiators and view so you can carry on from where you left off.
Clearer Cancelled and Completed Items
Cancelled and completed items will now appear as translucent on the calendar so that they are less prominent.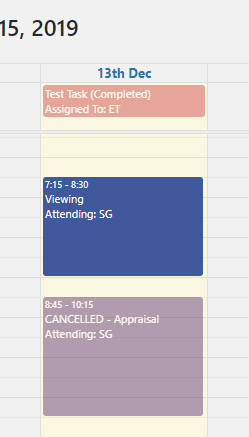 And Finally…
We've made a tweak to ensure tasks and appointments assigned to everyone still showed when a negotiator was selected in the filter. Previously, as soon as a negotiator was selected these would disappear which technically wasn't correct.
Related to this, we also now show unaccompanied viewings on all negotiators calendars. In future we might add a setting to control this but we felt it more important that it shows and is not missed.