When starting an estate agency business we know that it can be a minefield when it comes to choosing providers for different aspects of your new venture. Property Hive can make the choice of website and CRM provider an easy one by offering everything that you might need in these already stressful times.
In this post we'll outline just a few of the reasons why we believe Property Hive to be a great solution for your new property business:
Cost Effective
You've probably heard of the phrase "You get what you pay for", but that's not the case with Property Hive. With budget being an important factor when starting a business, we've developed an off-the-shelf solution that provides everything needed to get you up and running.
Believe it or not, most of the functionality needed to run an estate agency website and CRM software is included as part of the free plugin. Yes, you read that right: completely 100% free.
As we don't have physical offices or expensive hosting and servers to worry about, we can offer Property Hive and it's features at an incredible price.
Don't believe us? Have a quick peek at the video below (around the 4:17 mark) where these industry experts discuss how they'd use Property Hive to power their start-up:
Extendable
"If Property Hive is free how do you make money?". This is a common question we get asked and the answer comes in the form of our premium add ons. Any special or advanced functionality normally exists as an add on. This might be a real-time feed to Rightmove, a map search for your website, or SMS integration for your CRM, these simply bolt onto your existing installation of Property Hive.
We have over 50 add ons at a range of prices that can be purchased at anytime, meaning your site can grow with extra functionality as your business grows.
All Under One Roof
If you opt to use Property Hive for your website and CRM you'll have the ability to manage everything in the same place. One login gives you and your staff access to everything you need to manage your day-to-day operations.
Our 'Property Hive Only Mode' removes any WordPress distractions leaving you with the things you care about, be it adding a new instruction, matching properties to applicants, or generating a sales memo document.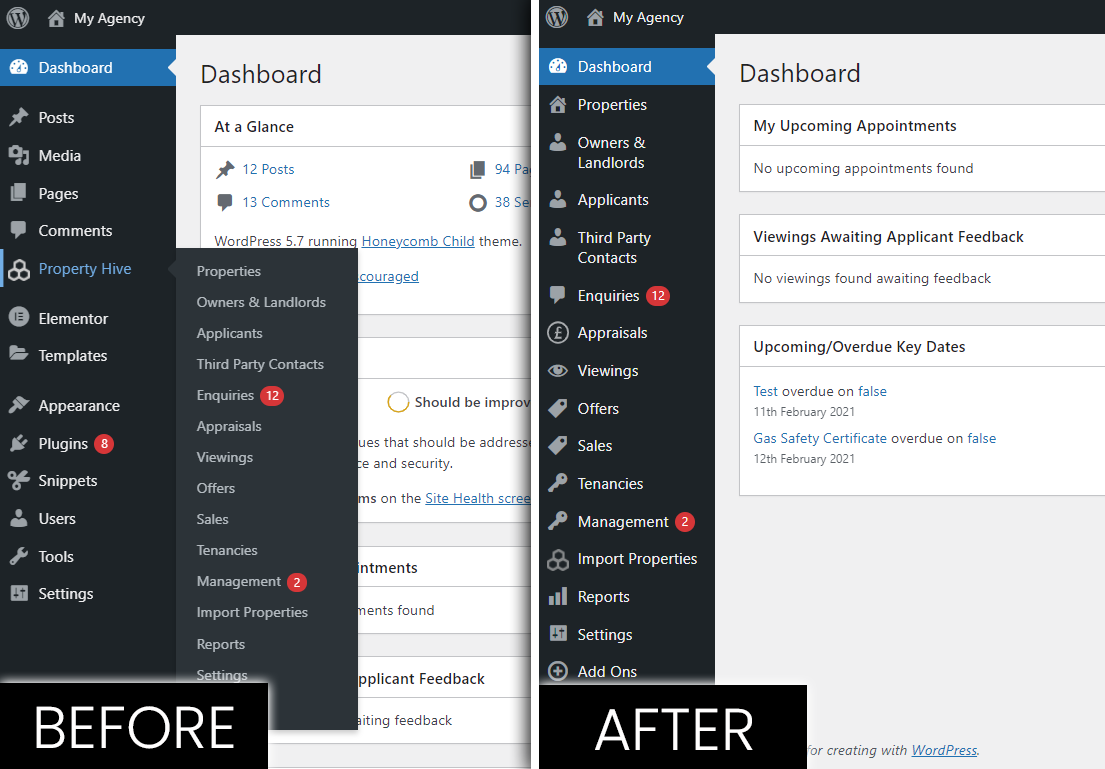 We're Experienced in Property Software
With 17 years in the property software industry and thousands of estate agency websites under our belt, quite simply, you can trust us!
Proven Track Record
And, not only do we talk the talk at Property Hive but we can also walk the walk. This is evident in our abundance of 5 star reviews.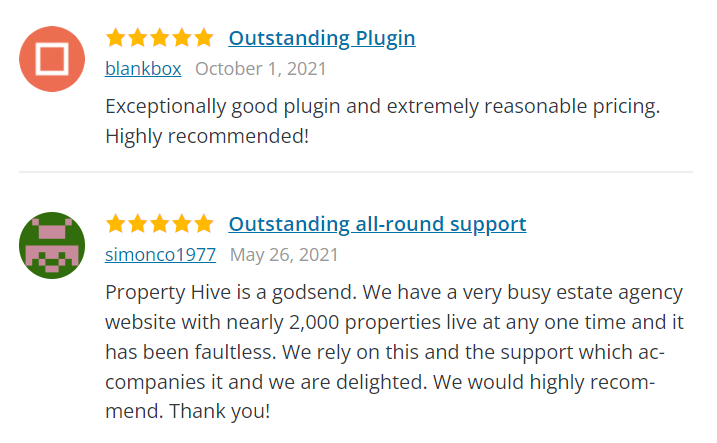 We've had some amazing opportunities to work with many start ups and to see them grow with the assistance of Property Hive.
Rapid Development
One of the things that we pride ourselves on is the speed at which we develop and can push out new features. We have add ons being released and updated each week and new versions of Property Hive being put out at regular intervals too.
Community Driven and Open Source
Apart from the significant cost saving aspect of using Property Hive, another of our primary USPs is that we want all of our users to be involved in the development and progression of the plugin to make Property Hive better for everyone in the industry.
We do this via a number of methods including public support forums, a public roadmap where you see what's in development and an open source codebase meaning anyone can contribute new features; just one of the many advantages of using open source software.
---
If we've tickled your fancy, follow the links below to find out more.