We've just released version 1.4.38 of the Property Hive plugin for WordPress. In this post we'll take a look at what's new.
Tenants Fees Act Compliance
With the new Tenant Fees Act coming into effect on 1st June 2019 we've made some updates regarding this making it easier for you to display fees and other tenancy info on your estate agency website.
You've always been able to store information relating to lettings fees in Property Hive and this would get sent to any portals you send properties to. They wouldn't get displayed on your own website however and would require a change making to templates to do this.
We've now added a new setting allowing you to choose whether a link to this tenancy info should be displayed and where: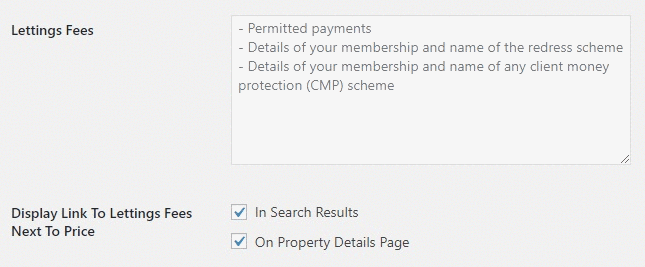 Choosing to display the link will show a link next to the price which, when clicked, opens the info in a lightbox popup.
And Much More…
– Adjusted how single-property/meta.php is contructed by doing logic outside of the template. This means meta data can be changed through use of a new 'propertyhive_single_property_meta' filter instead of having to override template
– Media uploaded manually to the property record under the 'Media' tab is now actually attached to the property post. Previously it would show as 'unattached' in the media library
– Added new save actions to commercial details and department meta boxes so custom fields added to these meta boxes via the Template Assistant add on are saved accordingly
– Features are now trimmed (i.e. whitespace is removed) before they're returned from the get_features() method. Properties sent to Zoopla using the real-time format would get rejected if additional whitespace existed in features.
– Removed request to empty actions.js file
– Performed same removal of \r\n from full descriptions on commercial properties to follow suit with recent change to residential descriptions
– Move how and where Emogrifier is loaded so it's only loaded when needed
– Declared compatibility for WordPress 5.2