Version 1.0.10 Released – Marketing Flags
10th February 2016
---
We don't tend to write about every single release of PropertyHive that we do. Some releases just contain small bug fixes, others contain small features that won't apply to every agent.
Today we've released version 1.0.10 of Property Hive however which contains a new feature called 'Marketing Flags'. Marketing Flags can be found under the 'Marketing' tab of a property record in WordPress and are a new custom field which provide the ability to place properties into a bespoke category, or highlight a particular feature relevant to it's position.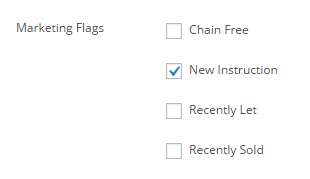 Some examples of marketing flags might be 'Recently Sold', 'Chain Free' or 'New Instruction'. We understand that not every website is the same. Agents like to have a way to tag properties in certain ways, or be able to filter properties by something inparticular. Maybe you have a 'Recently Sold' page on your website, or maybe you just want to highlight new instructions in search results. Whatever the requirement, marketing flags assist with these goals.
What else are we working on?
We've got some really exciting features coming your way very soon. These include:
Themes – Property Hive currently requires a knowledge of coding in order to integrate it into a website. From March we'll be offering our own range of themes. These will be available to purchase through the Property Hive website and will link directly in with Property Hive. By using our plug-and-play themes you'll be able to get an estate agency site up and running in a matter of minutes. This also means that anyone can do this, regardless of your technical background.
Commercial – We currently only support sales and lettings properties in Property Hive. We're expanding this and adding commercial support to the mix. This is still in it's infancy and will be something we work on over a few weeks. Keep an eye on this blog or follow us on Twitter to make sure you're notified when this feature becomes available.