Spectacular Wiltshire Roman Villa Discovered – The Power Of Home Improvement
22nd April 2016
---
It was just another day on the Irwin farm, and then – in a life-changing moment – it became so much more. Rug designer Luke Irwin was doing some minor home improvements, laying cables to light an old barn on his property so his kids could play table tennis in there, when he unearthed something really rather special.
We have become a nation obsessed with working on our homes, from loft conversions and extensions to renovation projects and basement construction. And, no matter whether it's more room for the family, a cinema room for dad, a playroom for the kids or a granny annex for the in-laws when they visit, these improvements often come with added value for the property. However, Luke Irwin had no idea just how much value would come from what he discovered that day.
As he swept away the mud he was startled to find an incredible red, white and blue mosaic – "colours as brilliant as the day it was laid", he exclaimed in a BBC interview. But this was just the start of what was to turn out to be a discovery "unparalleled in recent years" according to Historic England – a public body tasked with caretaking the country's historic places.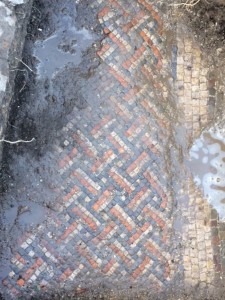 Credit: Luke Irwin
Archaeologists from Historic England and Salisbury Museum spent days carefully excavating portions of the site to discover what lay underneath. What they found was "an elaborate and extraordinarily well-preserved villa", a large collection of Roman pottery, oyster shells, coins and various metal objects. The conclusion they have made is that the mosaic was, in fact, part of one of the largest Roman villas ever found in England. It has been dated to have been built sometime between 175 AD and 220 AD, and the structure finally succumbed to age 300 years later after several remodels, in around 500 AD.
The experts have been getting very excited about the three-storey structure, its double courtyard, and the farmed oysters that were brought live to the villa from the coast (only for their shells to be discovered 1,500 years later) – all of which points to the villa having been owned by someone quite important and certainly very wealthy.
The kids will no doubt get their games room, and with the local interest that the Irwin Farm is getting, I'm sure dad can probably stretch to a pool table as well now. This may be an extreme case, but when you start to build, renovate or improve your home, you just never know what you may find. Maybe it'll be some Viking gold in the garden – it could be grandma's long-forgotten jewellery that had been stored up in the attic, or a painting by an 'old master' tucked away in the potting shed. Keep your eyes peeled. Massive Roman villa discoveries may be rare, but even if all you find is that you've improved the capital value of your home, or the work has enhanced your property's saleability, it will have been worth it.
We should all be encouraging our vendors to do a little home improvement. After all, anything that tidies up or modernises, extends or enhances, makes selling the property that much easier.