Branding isn't just about your logo. It's your whole identity as a business. It is critical that as an estate agency you have your own unique style that doesn't blend in with all the competition and compliments your USP.
The most important thing to remember when branding however, is you MUST tailor it to your target audience. 
If you have large, expensive, country homes for sale, then you're not going to be targeting young people looking for their first home! Your audience is most likely going to be older and want assurances that you are dependable, knowledgeable and trustworthy. On the other hand, younger people are typically marketed to in more dynamic ways. 
As humans, we are programmed to make assumptions of a brand just on what they look like, so it's not a bad idea to go along with some traditional characteristics that your target audience is known to resonate with. 
Here are three aspects of branding that should be geared towards your ideal customer.
Logo
A logo, often called a 'bug' in the industry, is obviously extremely important for your brand. It has to be unique to you and should be recognisable at speed. You can opt for an icon style. In the property sector, your icon you use could be in the shape of a house for example. Maybe you want a typographic style, using your company initials or maybe you combine the two and incorporate a related image concept into the letters.
Another thing to bear in mind is that your design should work in the real world. It should be recognisable on t-shirts, business cards, notepads etc. It should therefore not be too complicated.
When thinking about what design your bug should be, think about the psychological effect your logo will have:
Sharp, straight lined shapes tend to project stability and balance. These sturdy shapes can build trust just from the shape. These are ideal for attracting an older audience. 

Rounded icons are more soft and as a result are often seen as youthful. 

Circular and elliptical shapes are often seen as a symbol of love and commitment. Think wedding rings. Perhaps if your audience is families then a more rounded look is the best option.
Example:
One of our clients, Core Mortgages, is an independent mortgage provider for homeowners and is affiliated with a medium sized estate agent. We helped them target first time mortgage owners. This demographic are usually in their 30s and may have a family so we had this in mind when designing their branding.
The company name was the key influencer in designing their logo. An encompassing typographic style was chosen. This design is instantly recognisable, not only does it contain an initial, but the core inside points directly to the name of the company: Core Mortgages. By design, the circular shape and the simplistic, contemporary style appeal to the target demographic. It looks good on day-to-day items and it's shape is recognisable to work without colour if necessary.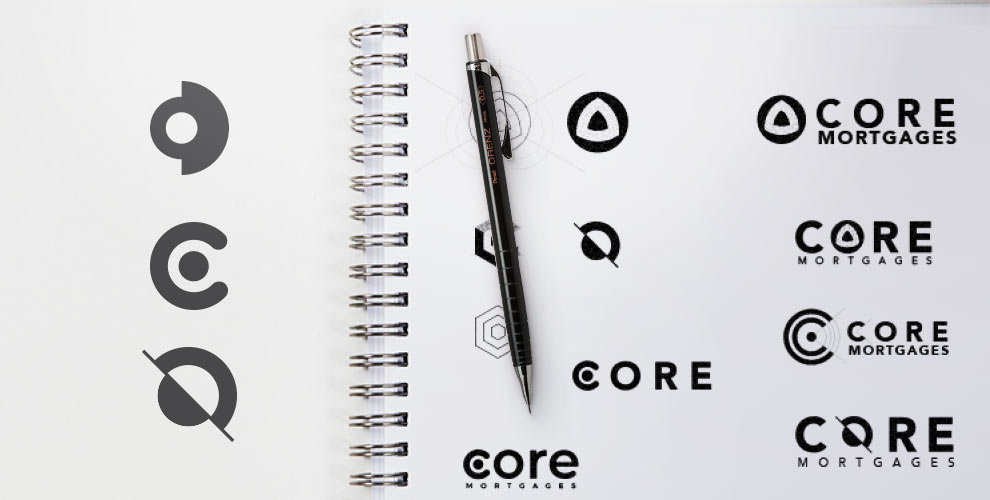 Tagline
Your tagline goes hand in hand with your bug. This is your company name, the text that goes alongside your logo. It's aim is to compliment your logo and maintain the style you've gone with. If it doesn't, the brand can look out of sorts and tacky. It is important that you select the correct font for your brand.
One decision is choosing between a serif and a sans-serif tagline. This goes back to the round vs sharp psychology mentioned above:
Serif fonts are often associated with quality and traditional high standards, and are generally more appealing to older generations. 

Sans-serif fonts on the other hand are used in more contemporary branding, so maybe this is a better choice when aiming at younger people.  
Example:
Due to the typographic bug, the tagline could be easily extrapolated off of it. A sans-serif font to match the soft edges of the logo was the obvious choice to maintain a smart appearance. A minimalistic logo would have looked ridiculous with a complicated serif font.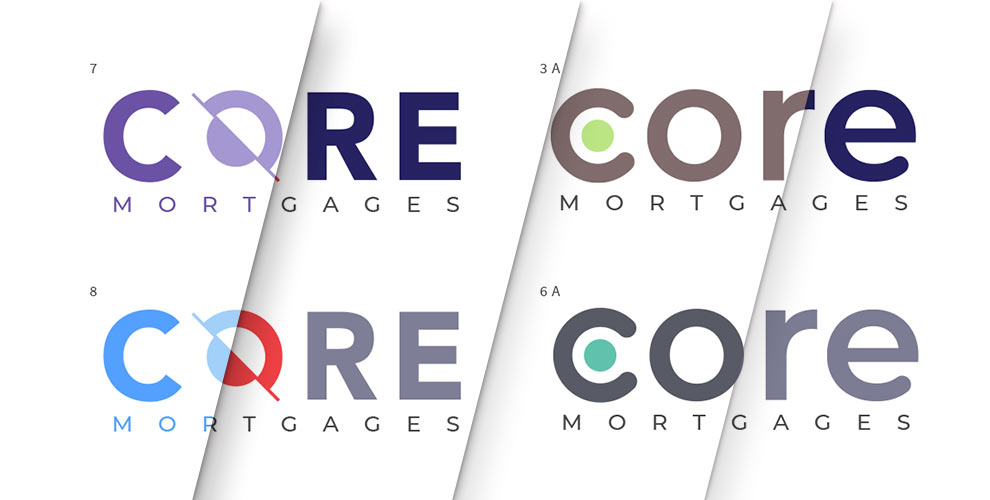 Colour scheme
The colour scheme you decide on is also crucial to the identity of your brand. It can make you distinguishable or make you forgetful. You can portray what you are all about and be instantly recognisable with a clever choice of brand colours. 
In the property market you will often see blues and purples used. They convey reliability and prestige. You can choose to follow this trend or you can opt for something a bit more unique, depending on your target audience and what colours your closest competitors are using.
Example:
Core Mortgages colour scheme was made up of greys and greens. The grey added a modern, fashionable look to the brand, aspects that the target audience enjoy and relates to. Green can represent stability and wealth which is what this demographic aspire to at the beginning of this new stage in their lives. The colours work well together to help create a forward thinking identity.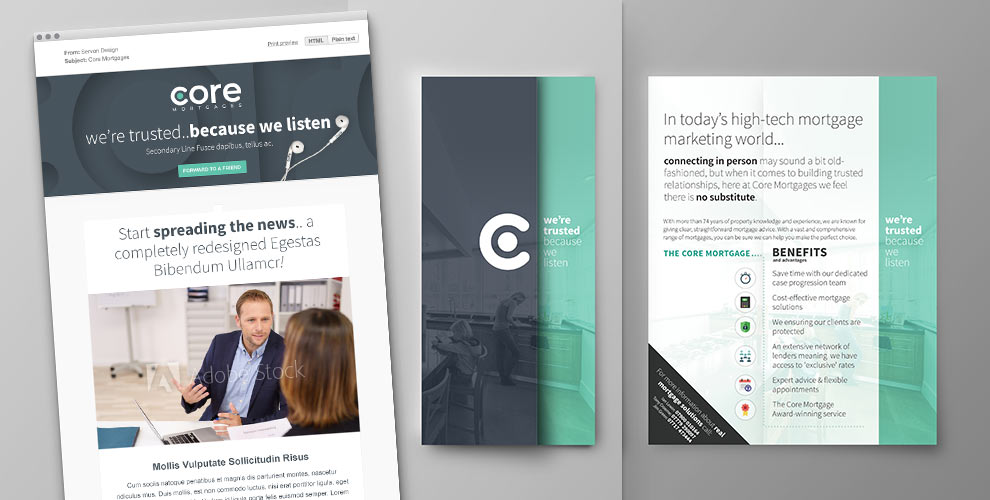 Conclusion
By using this new branding specifically targeted at their ideal customer, Core Mortgages have created a look of a modern and reliable mortgage provider which perfectly reflects their services and allows them to get the types of customers they want.
How you brand yourself is extremely important to ensure success. Paired with clever marketing, you can hone down on your target audience to generate more quality leads.
If you want help creating or changing your estate agency's branding then we know of experts that can help you, so get in touch.
This article was provided by Kevin Williams. As one of the founders of Servon Design, Kevin has more than two decades of digital marketing and branding experience in the property sector. He focuses on helping Estate and Letting Agents not only generate leads through digital marketing but also helps improve their online brand and presence.
Written by Kevin Williams [Director at Servon Design Limited]