Announcing Our New Theme "Honeycomb" Coming Soon
14th February 2017
---
We've written before about how we're big supporters of open-source and free software. It forms the backbone of our company so we're pleased to announce our next WordPress estate agency theme "Honeycomb" which will follow these same principles; open-source, free, and available for anyone to use and contribute to.
UPDATE: Honeycomb has now been released. Read More.
We released our previous theme back in March 2016. Property Hive had only been around for 4 months, but getting a theme available was our top priority. We wanted to make Property Hive as accessible to as many people as possible, regardless of their technical expertise. We released 'Honey' which has served us well for the past 12 months.
In the next few weeks however we'll releasing our new WordPress theme. We'll announce the full list of features then but in the meantime here's a list of the key advantages:
100% Free To Download and Open-Source

The theme will be free to download. It will also be open-source and released with a GPL license meaning anyone can take the theme and modify it, or even better, contribute to it.
Edit Colours, Layout and More Through The Customizer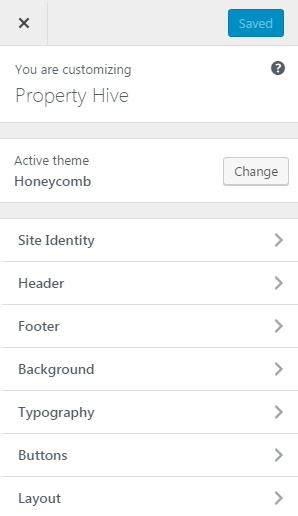 Using the WordPress customizer you'll be able to control how your estate agency website looks and preview the changes in real-time before making them live. From font colours to background colours, and from the logo to choosing which widgets appear in the footer, you'll be able to make the site your own.
Compatible with Slider Revolution
You'll have the option to use a slideshow generated with the Slider Revolution plugin if you're already a fan of this plugin. Alternatively you'll be able to choose from other headers and slideshows.
Receive The Latest Updates
When new functionality and bug fixes are introduced to the theme, you'll be able to benefit from these by updating the theme through WordPress, just like you would with other themes and plugins.
Child Theme Compatible
Want to override a certain aspect of the theme and customise it even further? You'll be able to create a child theme to ensure any changes you make don't get effected when doing an update in the future.
Developer Friendly
If you like to get down and dirty with code you'll love how flexible Honeycomb is. We've added a bunch of actions and filters so you can extend the theme to your hearts desire.
Get Notified When Honeycomb is Available
We can't wait to release this new theme in just a couple of weeks to see what you come up with. If you'd like to be notified when it's available you can sign up to our mailing list in the footer of our website.