COVID-19 has slowed the property market right down. For now, house tours are off the table, and you can't go round to a vendor's house to photo it just yet.
But there is hope! There is a way to continue to list houses all while abiding by the social distancing rules – get vendors to provide the showcasing material.
One of our estate agent clients has already implemented this idea. Using photos and video clips provided by their customers, they have edited together virtual house tours. This keeps them relevant and they are keeping customers happy with plenty of positive feedback on the idea flooding in. Our client tells us that buyer intent is still very much alive, and people keen to view houses as soon as lockdown is over.
So marketing houses nowadays is not impossible by any means and is something we believe estate agents should prioritise.
If you set it up right, we believe this is a technique that can be continued long after the quarantine restrictions have been lifted. We have some ideas how you can make this a success.
Show them what you're aiming for
We are visual by nature. If you show people an example of what they are trying to recreate, they can copy it and are more likely to produce the desired content. If you have made virtual tours before then you can show them one of those.
If you don't have a virtual tour already to hand, then perhaps you can make a demo version yourself. You could film a tour of one of the rooms in your own house if you are comfortable with it!
Once you have some vendor supplied virtual tours in the bank you can use one of these as inspiration for new customers.
Get their home prepared
On numerous property shoots we have done, we have arrived only to see a house that is only semi-clean. You need to stress that a quick once over tidy is going to put off people. If there is someone else's clutter all over the property, people struggle to picture it as their own and lose interest.
Encourage them to do a deep clean and temporarily remove some of their personal items while they film and photograph.
Share photography and videography tips
Most people won't have much photography or videography experience. It is worth teaching them some basic tips to make their home look as appealing as possible.
Teach them about lighting. The best time for outdoor filming is the golden hour in the late afternoon however for indoor photos more light is needed. Help them avoid highly contrasted photos by telling them not to film in the middle of the day. Encourage them to turn on all their lights big and small to get a nice twinkle off of surfaces.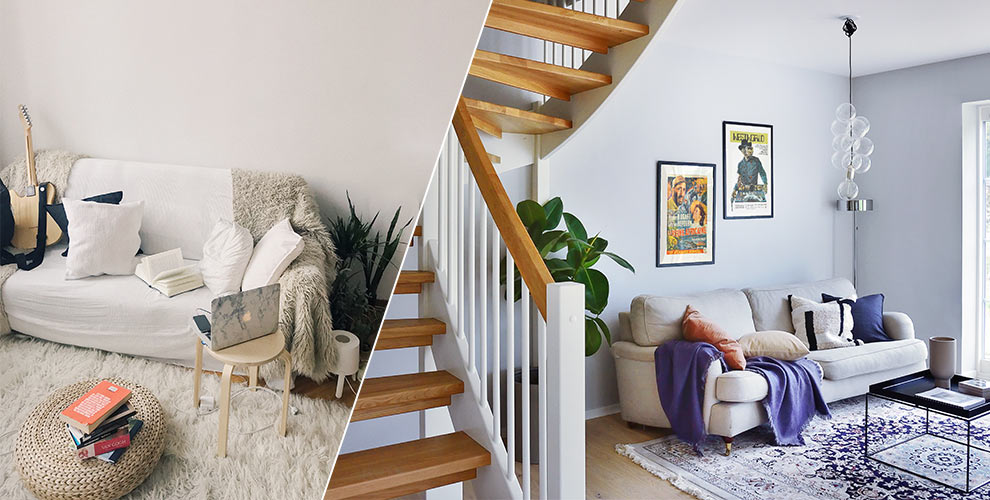 Help them understand how small details in photos can influence a buyer's opinion on their property. The comparison above shows an example on a sub-par shot on the left and a great shot on the right. The difference between shots is composition and lighting. The good shot has foreground interest and better depth. It invites you into the shot because it hints that there is more to see. This is achieved by positioning; we are looking as if we just entered the room. The bad shot is looking down and there is no interest in the composition. There is no reason to look further because it doesn't hint of anything else to see.
You should both plan a route through their house, making sure plenty of angles are seen and important features are shown off. Also, let them know what speed you want them to move through a room. Getting these right can turn this make-shift tour into an efficient and professional looking one.
Include context in the edit
Before you edit the video tour together, make sure you know everything you need to know about the property and individual rooms. Extra context is crucial and ensures that viewers don't miss important information. Find out information as if you were giving a normal house tour.
You can edit a voiceover explaining these details if you choose to. Or you can opt for on screen text to tell the story of the property.
Vendor inspired house marketing is a smart way around the current restrictions in place. It is a positive and proactive move that keeps vendors happy and keeps you in the forefront of buyer's minds.
It also demonstrates that your estate agency is modernising, which is only good for future business. It might change how you run your estate agency in the long term, even after the world returns to normal.
If you want to discuss this idea further or have any questions, we know of experts who can help you, so get in touch.
This article was provided by Kevin Williams. As one of the founders of Servon Design, Kevin has more than two decades of digital marketing and web experience in the property sector. He focuses on helping Estate and Letting Agents not only generate leads through digital marketing but also helps improve their online brand and presence.
Written by Kevin Williams [Director at Servon Design Limited]