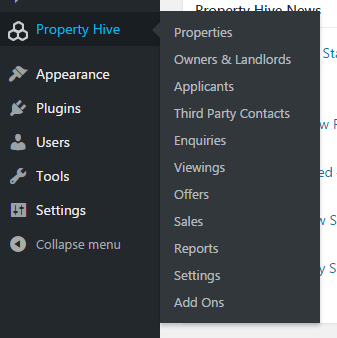 All in one place
Upon installing Property Hive to your estate agency WordPress website, all related property information will be in it's own area meaning everything is managed from the same place.
Properties
Properties are treated just like normal WordPress posts and pages, meaning it should all be familiar. From the 'Properties' screen you can view and filter all of your properties.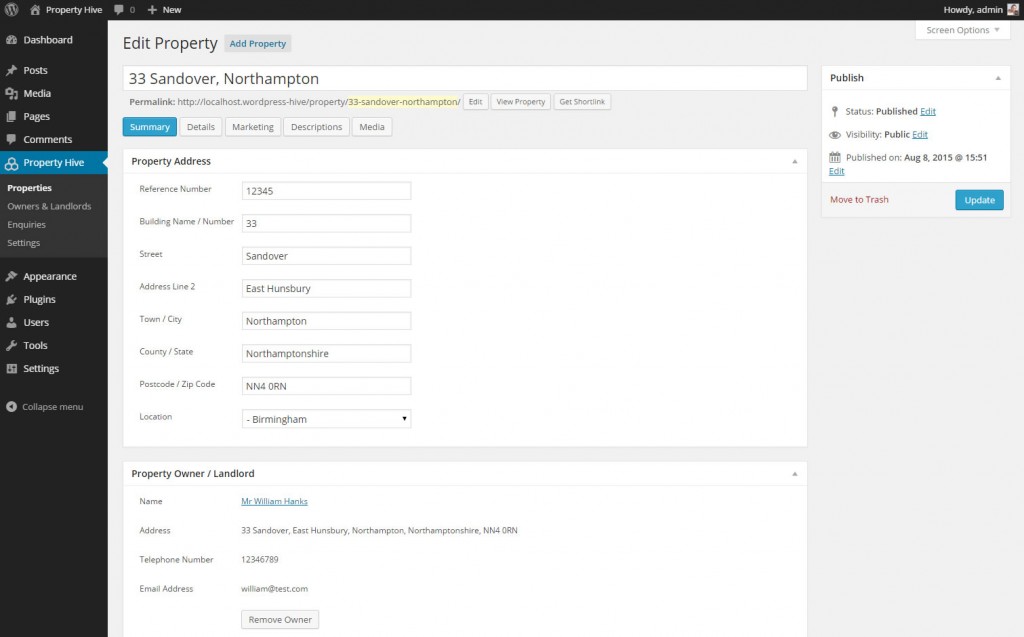 Property Summary
When editing a property in Property Hive, we've made navigating the record easy. Instead of a long list of fields, we've grouped related fields into their own tabs making it easy to jump to the section you want to edit.
Under the 'Property Summary' tab, you can record the full property address, as well it's exact co-ordinates (which can be overwritten) for when displaying the property on a map.
Property Details
More in-depth information about each property can be stored here. This includes fields such as bedrooms and bathrooms. Also record specific information based on whether the property is for sale or to rent, such as price, rent, furnished, and more.
NEW! Support for commercial properties has arrived. Read More >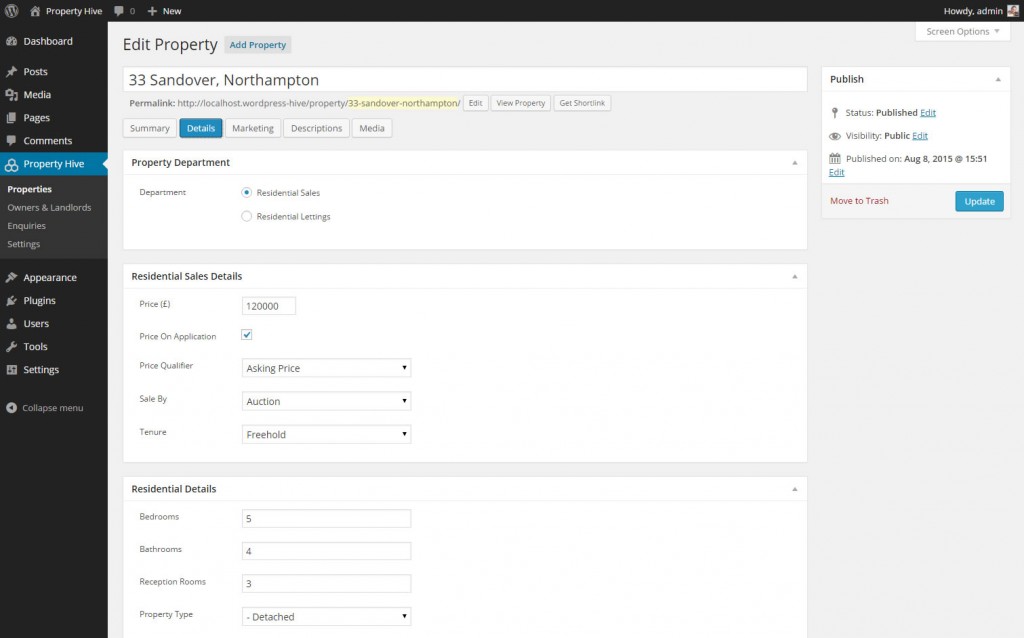 See What Our Users Have To Say ...
We used PropertyHive on a site recently and it met all of our needs. Plugged into the frontend easy enough and the management of properties within WordPress itself is dead simple. The developers were also easy to communicate with and more than willing to help when we had questions. We're also using a couple of the add ons too which were simply plug-and-play. Look forward to seeing how this plugin progresses in the future.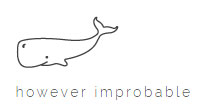 Marketing
Set how the world will see your property. Is it on the market and available on the website? What's the availability? All of this can be set here.
If you use one of our property portal add-ons you'll also be able to set which property portals the property is sent to.
Property Descriptions
In the 'Property Descriptions' section you can store an unlimited number of features, a short description about the property, as well as details about each room to build up the full description.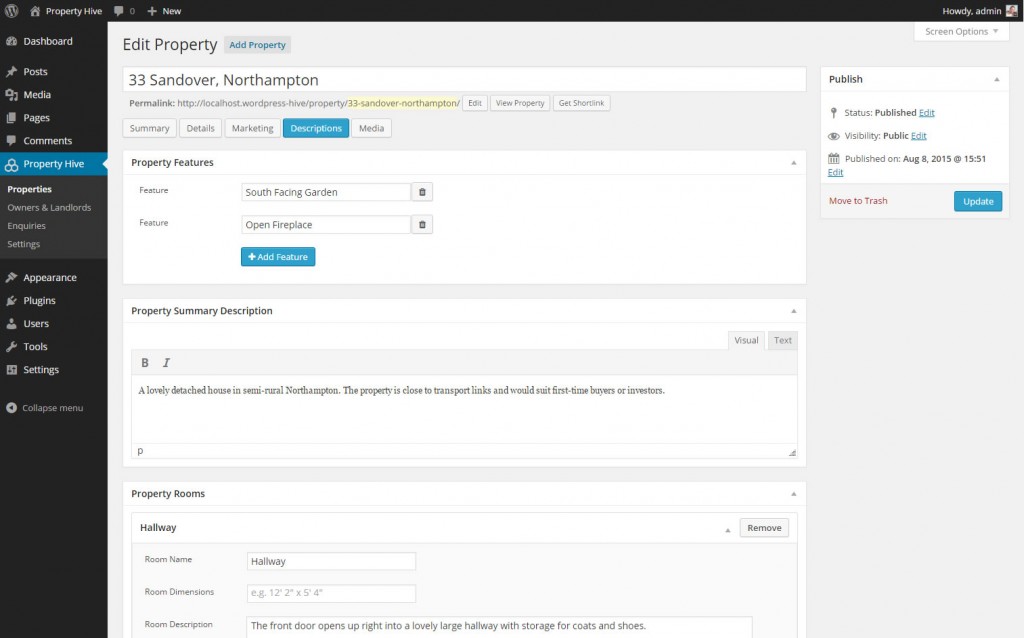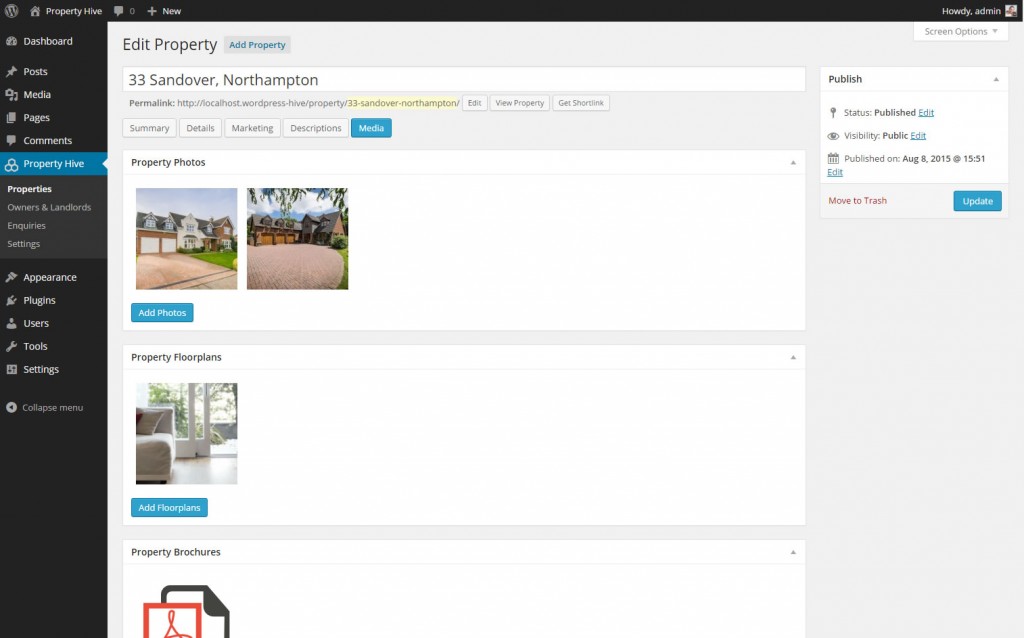 Property Media
Photos, floorplans, brochures, EPC's and virtual tours are managed here. Simply drag and drop to reorder them, or add new ones via the familiar WordPress 'media' section.
Displayed On Your Website
It's easy to allow potential buyers and renters to search and view properties on your website. Property Hive can integrate with any new or existing theme, and we even have our own themes available to get you up and running in minutes.