We're 1 Today! A Look Back At Our First Year
30th November 2016
---
Exactly one year ago today I submitted Property Hive to the WordPress plugin repository and made it available for download. And what a year it's been! In this post we'll be reflecting on some of the highlights from the past 12 months, as well as looking at where we're heading in the future.
I remember vividly the moment I released Property Hive. The heart was beating and the palms were sweaty. This idea I had years ago, and that took us months to build, was finally ready. Had it been fully tested? No. Was it completely polished? No. Did I care? Sure I did. We released it though and got version 1.0.0 out the door.
52 releases (that's one per week for the eagle-eyed amongst you), 16 add ons and hundreds of thousands of lines of code later, we're still here. Personally I'm shocked at how far Property Hive has come in that year, and am so proud of what the team here has achieved in such a short amount of time. I can confidently say that at this time we're easily one of the leading platforms, if not the leading platform, for property sites built with WordPress.
The Highlights
We've put together a timeline highlighting the key events from the past year. From major releases, to new add ons, we've added them all below (click the graphic to view larger version):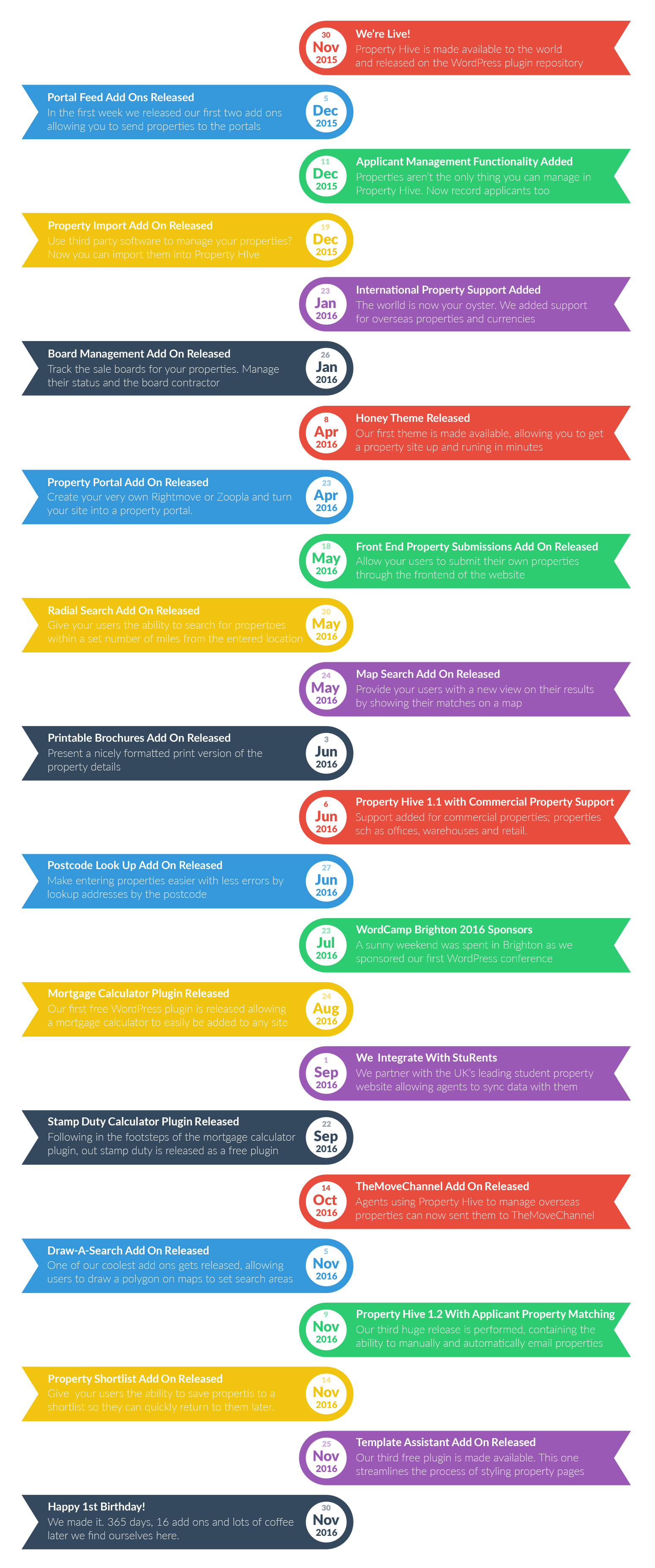 I think you'll agree, we've been quite busy!
The Next 12 Months
I know this is meant to about the past year, but I can't help but talk about the future as this is where things get really exciting! We'll be focusing on continuing to make Property Hive not only a WordPress plugin that displays properties, but one that offers a complete software package for estate agents. This includes being able to track and record items such as viewings, offers and sales, then later things such as property management, maintenance and tenancies. All of this will be part of the free core plugin, and is ideal for startups and smaller agencies.
Imagine it now; Free, fully-functional estate agency software, which is part of the biggest CMS that powers 27% of the web, and all open-source so any developer in the world can contribute! Just saying it like that makes me tingle with excitement!
It's going to take a bit of time to reach the end goal but we've already started on this next phase and will announce new features as they get released over the forthcoming months.
Thank You
To wrap up this post I need to say a huge 'thank you' to everyone that's been involved with Property Hive. This includes the team here, WordPress developers who have used Property Hive for their estate agency clients, and anyone that's reported feedback, bugs and left reviews.
I'm already looking forward to writing our blog post next year and reflecting on another 12 fantastic months. I hope you'll be joining us then too!