Total Chatbots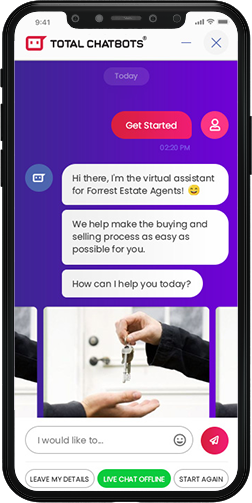 Total Chatbots, based in Glasgow, build chat bots specifically for estate agents which contain the following features:
Greet visitors to your website with an interactive welcome message, increasing engagement.
Customisable logo and colours to match your branding, ensuring it fits seamlessly into your website.
Automate responses to commonly asked questions.
Integrate your chatbot with Facebook Messenger to provide an automated experience to users on this channel.
Display your property listings within your chatbot.
Set up lead capture forms for viewing appointments, survey requests and more.
Use Delayed Responses to automatically re-target your bot users, increasing conversion.
Set up Live Chat back-up, incorporating department selection and setting when live chat is available for access.
Want a fully managed Live Chat backup solution? Don't worry, we can cover that for you too!
Use the power of Facebook Messenger Marketing to:

Create scannable codes to print on marketing collateral (brochures, listings, sales boards etc.) and attract people to your bot.
Re-target customers via Messenger who comment on your Facebook posts.
Link Facebook Ads to your bot, providing an interactive Ad experience.

Gain valuable insight into what your customers and prospects are asking your chatbot, helping you to tailor your future strategy.
Please enter referral code '3GF8VG' when signing up to Total Chatbots or mention you're using Property Hive.